Warhammer 40k Novel and Short Story List
---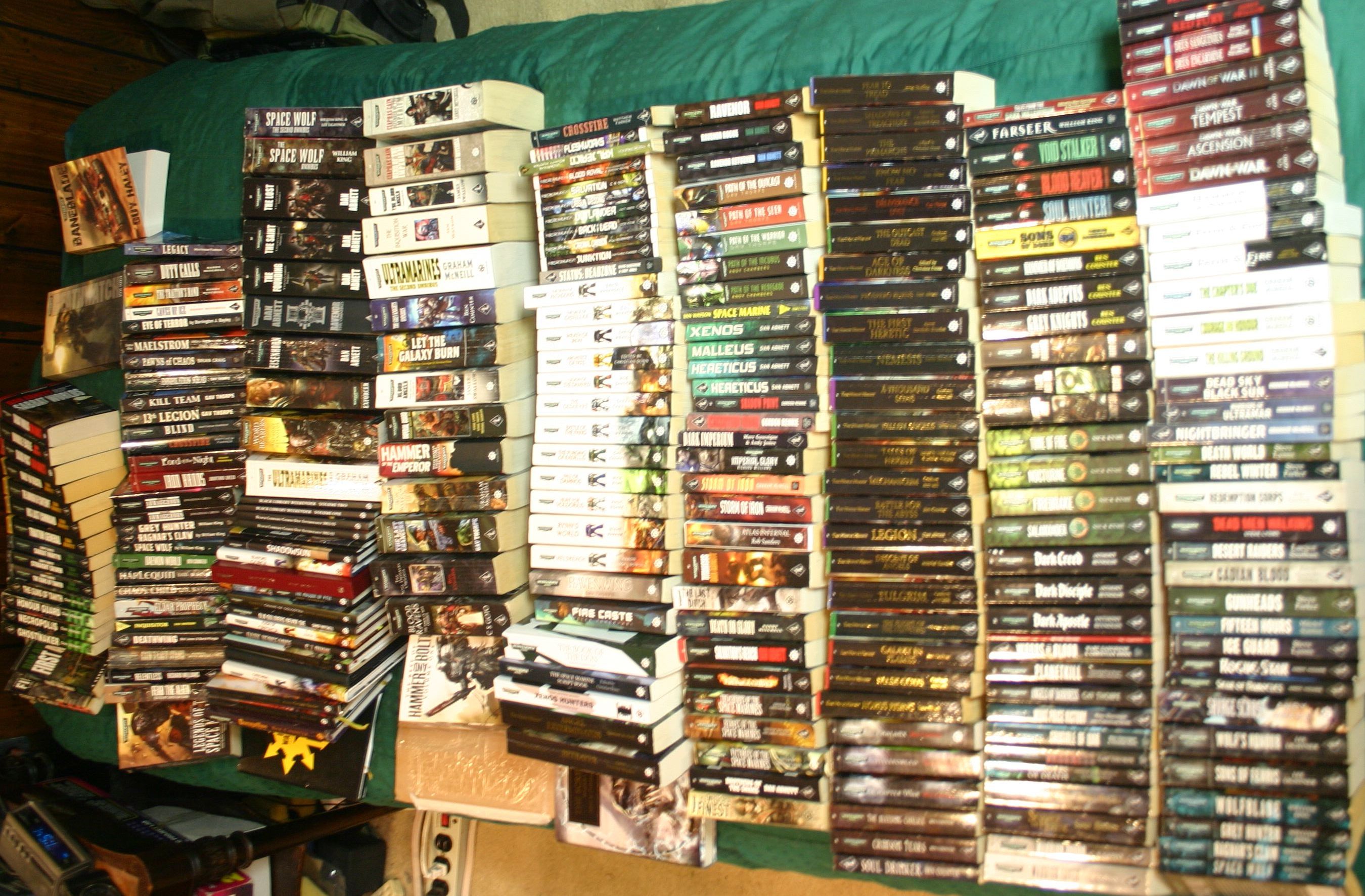 I've been reading Warhammer 40k novels for years. With such a large number of stories and 45-55 new titles every year it was getting hard to keep track of everything. After searching online I was surprised that there was no central list of all Games Workshop novels (not even Wikipedia has a comprehensive list) so I put together a spreadsheet. I figured other people may have the same desire as me so I'm putting it online(you're welcome Lexicanum). These are just the novels and anthologies, none of the art books, codices, graphic novels, or audio books. I have included collections and omnibii as they often contain extras that add to the stories. I've also been forced to add the ebook only novels as Black Library have started releasing more of them. The list below is sorted by author/editor. I've included the excel version of this list (minus my read checklist)
here
if you wish to use it. I'll try and keep it updated as best I can, for now it's good through February 2018. Currently there are 481 novels on the list, of which I've read 436. I'm currently reading "The Magos".
UPDATE! As of early 2012 I've had to put together a second list which encompasses all of the short stories written for 40k. This became necessary as a natural off shoot of the original list for a number of reasons. Primarily, as I purchased omnibi and anthologies I'd have trouble remembering if I'd read some of the short stories before. Add on top of this the shear number of ebooks being put out between Hammer and Bolter, direct only downloads, exclusive chapbooks from Black Library Live and Gamesday events it was getting hard to know what was actually available. I'm still leery about downloading short stories both because I don't want to have to re-buy it when a print anthology comes out but also because I don't want to miss anything that may not be physically printed. I will be keeping this as a seperate list from the full novels and will try to update it as I get new information. It's comprehensive as of February 2018. As usual my Excel version minus my read checklist is available
here
if you wish to keep track of your personal progress.
Novel List
Universe
Series
Year
Title
Author/Editor
Read
Warhammer 40,000
Imperial Guard
2009
Cadian Blood
Aaron Dembski-Bowden
Y
Warhammer 40,000
Space Marine Battles
2010
Helsreach
AaronDembski-Bowden
Y
Warhammer 40,000
Night Lords
2010
Soul Hunter
Aaron Dembski-Bowden
Y
Warhammer 40,000
Horus Heresy
2010
The First Heretic
Aaron Dembski-Bowden
Y
Warhammer 40,000
Horus Heresy
2011
Aurelian
Aaron Dembski-Bowden
Y
Warhammer 40,000
Night Lords
2011
Blood Reaver
Aaron Dembski-Bowden
Y
Warhammer 40,000
Grey Knights
2012
The Emperor's Gift
Aaron Dembski-Bowden
Y
Warhammer 40,000
Night Lords
2012
Void Stalker
Aaron Dembski-Bowden
Y
Warhammer 40,000
Horus Heresy
2013
Betrayer
Aaron Dembski-Bowden
Y
Warhammer 40,000
Space Marine Battles
2013
Armageddon
Aaron Dembski-Bowden
Y
Warhammer 40,000
Omnibus
2014
Night Lords The Omnibus
Aaron Dembski-Bowden
Y
Warhammer 40,000
Horus Heresy
2014
Prince of Crows
Aaron Dembski-Bowden
Y
Warhammer 40,000
Black Legion
2014
The Talon of Horus
Aaron Dembski-Bowden
Y
Warhammer 40,000
Space Marine Battles
2014
Blood and Fire
Aaron Dembski-Bowden
Y
Warhammer 40,000
Space Marine Legends
2015
Ragnar Blackmane
Aaron Dembski-Bowden
Y
Warhammer 40,000
Horus Heresy
2015
The Master of Mankind
Aaron Dembski-Bowden
Y
Warhammer 40,000
Black Legion
2017
Black Legion
Aaron Dembski-Bowden
Y
Necromunda
Necromunda
2005
Survival Instinct
Andy Chambers
Y
Warhammer 40,000
The Dark Path
2012
Path of the Renegade
Andy Chambers
Y
Warhammer 40,000
The Dark Path
2012
Path of the Incubus
Andy Chambers
Y
Warhammer 40,000
-
2013
The Masque of Vyle
Andy Chambers
Y
Warhammer 40,000
The Dark Path
2014
Path of the Archon
Andy Chambers
Y
Warhammer 40,000
Omnibus
2015
The Path of the Dark Eldar
Andy Chambers
Y
Warhammer 40,000
Imperial Knights
2017
Kingsblade
Andy Clark
Warhammer 40,000
Alpha Legion
2017
Shroud of Night
Andy Clark
Warhammer 40,000
Imperial Knights
2018
Knightsblade
Andy Clark
Warhammer 40,000
Rogue Trader
2006
Rogue Star
Andy Hoare
Y
Warhammer 40,000
Rogue Trader
2007
Star of Damocles
Andy Hoare
Y
Warhammer 40,000
Space Marine Battles
2010
Hunt for Voldorius
Andy Hoare
Y
Warhammer 40,000
Rogue Trader
2011
Savage Scars
Andy Hoare
Y
Warhammer 40,000
Imperial Guard
2014
Commissar
Andy Hoare
Y
Warhammer 40,000
Space Marine Battles
2012
Flesh of Cretacia
Andy Smillie
Y
Warhammer 40,000
Space Marine Battles
2014
Sons of Wrath
Andy Smillie
Y
Warhammer 40,000
-
2014
Trial by Blood
Andy Smillie
Y
Warhammer 40,000
Space Marine Battles
2016
Flesh Tearers
Andy Smillie
Y
Warhammer 40,000
Word Bearers Saga
2007
Dark Apostle
Anthony Reynolds
Y
Warhammer 40,000
Word Bearers Saga
2008
Dark Disciple
Anthony Reynolds
Y
Warhammer 40,000
Word Bearers Saga
2010
Dark Creed
Anthony Reynolds
Y
Warhammer 40,000
Omnibus
2012
Word Bearers Omnibus
Anthony Reynolds
Y
Warhammer 40,000
Horus Heresy
2014
The Purge
Anthony Reynolds
Y
Warhammer 40,000
-
2014
Kharn: Eater of Worlds
Anthony Reynolds
Y
Warhammer 40,000
-
2000
Eye Of Terror
Barrington J. Bayley
Y
Warhammer 40,000
Soul Drinker Saga
2002
Soul Drinker
Ben Counter
Y
Warhammer 40,000
-
2003
Daemon World
Ben Counter
Y
Warhammer 40,000
Soul Drinker Saga
2003
The Bleeding Chalice
Ben Counter
Y
Warhammer 40,000
Grey Knights
2004
Grey Knights
Ben Counter
Y
Warhammer 40,000
Soul Drinker Saga
2005
Crimson Tears
Ben Counter
Y
Warhammer 40,000
Grey Knights
2006
Dark Adeptus
Ben Counter
Y
Warhammer 40,000
Horus Heresy
2006
Galaxy in Flames
Ben Counter
Y
Warhammer 40,000
Omnibus
2006
The Soul Drinkers Omnibus
Ben Counter
Y
Warhammer 40,000
Soul Drinker Saga
2007
Chapter War
Ben Counter
Y
Warhammer 40,000
Horus Heresy
2008
Battle for the Abyss
Ben Counter
Y
Warhammer 40,000
Grey Knights
2008
Hammer of Daemons
Ben Counter
Y
Warhammer 40,000
Omnibus
2009
Grey Knights: The Omnibus
Ben Counter
Y
Warhammer 40,000
Soul Drinker Saga
2009
Hellforged
Ben Counter
Y
Warhammer 40,000
Soul Drinker Saga
2010
Daenyathos
Ben Counter
Y
Warhammer 40,000
Soul Drinker Saga
2012
Phalanx
Ben Counter
Y
Warhammer 40,000
Omnibus
2013
Souldrinkers: Redemption
Ben Counter
Y
Warhammer 40,000
Omnibus
2013
Souldrinkers: Annihilation
Ben Counter
Y
Warhammer 40,000
Imperial Fists
2013
Seventh Retribution
Ben Counter
Y
Warhammer 40,000
Space Marine Battles
2013
Malodrax
Ben Counter
Y
Warhammer 40,000
Sanctus Reach
2014
Blood on the Mountain
Ben Counter
Y
Warhammer 40,000
Space Marine Battles
2014
The World Engine
Ben Counter
Y
Warhammer 40,000
Lords of the Space Marines
2014
Arjac Rockfist: Anvil of Fenris
Ben Counter
Y
Warhammer 40,000
Space Marine Legends
2016
Cassius
Ben Counter
Y
Warhammer 40,000
-
2013
Shadowsun: The Last of Kiru's Line
Braden Campbell
Y
Warhammer 40,000
Shield of Baal
2014
Tempestus
Braden Campbell
Y
Warhammer 40,000
-
2001
Pawns Of Chaos
Brian Craig
Y
Warhammer 40,000
Iron Warriors
2012
The Siege of Castellax
C.L. Werner
Y
Warhammer 40,000
Genestealer Cults
2017
Cult of the Warmason
C.L. Werner
Y
Warhammer 40,000
-
2012
Dark Vengeance
C.Z. Dunn
Y
Warhammer 40,000
Apocalypse
2013
Pandorax
C.Z. Dunn
Y
Warhammer 40,000
Space Marine Battles
2017
The Eye of Ezekiel
C.Z. Dunn
Y
Warhammer 40,000
Dawn of War
2004
Dawn of War
Cassern S. Goto
Y
Warhammer 40,000
Dawn of War
2005
Dawn of War: Ascension
Cassern S. Goto
Y
Necromunda
Necromunda
2005
Salvation
Cassern S. Goto
Y
Warhammer 40,000
Deathwatch
2005
Warrior Brood
Cassern S. Goto
Y
Warhammer 40,000
Dawn of War
2006
Dawn of War: Tempest
Cassern S. Goto
Y
Warhammer 40,000
Deathwatch
2006
Warrior Coven
Cassern S. Goto
Y
Warhammer 40,000
-
2007
Eldar Prophecy
Cassern S. Goto
Y
Warhammer 40,000
Omnibus
2008
Blood Ravens: The Dawn of War Omnibus
Cassern S. Goto
Y
Warhammer 40,000
Space Marine Battles
2015
Plague Harvest
Cavan Scott
Y
Warhammer 40,000
-
2016
The Red Path
Chris Dows
Y
Warhammer 40,000
Dawn of War
2009
Dawn of War II
Chris Roberson
Y
Warhammer 40,000
Imperial Fists
2010
Sons of Dorn
Chris Roberson
Y
Warhammer 40,000
Space Marine Battles
2011
Battle of the Fang
Chris Wraight
Y
Warhammer 40,000
Horus Heresy
2012
Brotherhood of the Storm
Chris Wraight
Y
Warhammer 40,000
Space Marine Battles
2012
Wrath of Iron
Chris Wraight
Y
Warhammer 40,000
Space Wolf Saga
2013
Blood of Asaheim
Chris Wraight
Y
Warhammer 40,000
Horus Heresy
2014
Scars
Chris Wraight
Y
Warhammer 40,000
Anthology
2014
Wolves of Fenris
Chris Wraight
Y
Warhammer 40,000
Space Wolf Saga
2014
Stormcaller
Chris Wraight
Y
Warhammer 40,000
Space Marine Battles
2015
War of the Fang
Chris Wraight
Y
Warhammer 40,000
Horus Heresy
2015
Wolf King
Chris Wraight
Y
Warhammer 40,000
Horus Heresy
2016
The Path of Heaven
Chris Wraight
Y
Warhammer 40,000
The Primarchs
2016
Leman Russ: The Great Wolf
Chris Wraight
Warhammer 40,000
Vaults of Terra
2017
The Carrion Throne
Chris Wraight
Y
Warhammer 40,000
Vaults of Terra
2017
Watchers of the Throne: The Emperor's Legion
Chris Wraight
Y
Warhammer 40,000
The Primarchs
2018
Jaghatai Khan: Warhawk of Chogoris
Chris Wraight
Warhammer 40,000
Gaunt's Ghosts
1999
First & Only
Dan Abnett
Y
Warhammer 40,000
Gaunt's Ghosts
1999
Ghostmaker
Dan Abnett
Y
Warhammer 40,000
Gaunt's Ghosts
2000
Necropolis
Dan Abnett
Y
Warhammer 40,000
Gaunt's Ghosts
2001
Honour Guard
Dan Abnett
Y
Warhammer 40,000
Eisenhorn Saga
2001
Malleus
Dan Abnett
Y
Warhammer 40,000
Eisenhorn Saga
2001
Xenos
Dan Abnett
Y
Warhammer 40,000
Eisenhorn Saga
2002
Hereticus
Dan Abnett
Y
Warhammer 40,000
Gaunt's Ghosts
2003
The Guns of Tanith
Dan Abnett
Y
Warhammer 40,000
-
2004
Double Eagle
Dan Abnett
Y
Warhammer 40,000
Ravenor Saga
2004
Ravenor
Dan Abnett
Y
Warhammer 40,000
Gaunt's Ghosts
2004
Sabbat Martyr
Dan Abnett
Y
Warhammer 40,000
Gaunt's Ghosts
2004
Straight Silver
Dan Abnett
Y
Warhammer 40,000
Gaunt's Ghosts
2004
Traitor General
Dan Abnett
Y
Warhammer 40,000
Omnibus
2005
Eisenhorn
Dan Abnett
Y
Warhammer 40,000
Gaunt's Ghosts
2005
His Last Command
Dan Abnett
Y
Warhammer 40,000
Ravenor Saga
2005
Ravenor Returned
Dan Abnett
Y
Warhammer 40,000
Horus Heresy
2006
Horus Rising
Dan Abnett
Y
Warhammer 40,000
Ravenor Saga
2006
Ravenor Rogue
Dan Abnett
Y
Warhammer 40,000
Gaunt's Ghosts
2006
The Armour of Contempt
Dan Abnett
Y
Warhammer 40,000
-
2007
Brothers of the Snake
Dan Abnett
Y
Warhammer 40,000
Gaunt's Ghosts
2007
Only in Death
Dan Abnett
Y
Warhammer 40,000
Omnibus
2007
The Saint
Dan Abnett
Y
Warhammer 40,000
Horus Heresy
2008
Legion
Dan Abnett
Y
Warhammer 40,000
Omnibus
2008
The Founding
Dan Abnett
Y
Warhammer 40,000
Gaunt's Ghosts
2009
Blood Pact
Dan Abnett
Y
Warhammer 40,000
Omnibus
2009
Ravenor: The Omnibus
Dan Abnett
Y
Warhammer 40,000
-
2009
Titanicus
Dan Abnett
Y
Warhammer 40,000
Omnibus
2010
The Lost
Dan Abnett
Y
Warhammer 40,000
Horus Heresy
2011
Prospero Burns
Dan Abnett
Y
Warhammer 40,000
Gaunt's Ghosts
2011
Salvation's Reach
Dan Abnett
Y
Warhammer 40,000
Horus Heresy
2012
Know No Fear
Dan Abnett
Y
Warhammer 40,000
Bequin Saga
2012
Pariah
Dan Abnett
Y
Warhammer 40,000
Horus Heresy
2014
The Unremembered Empire
Dan Abnett
Y
Warhammer 40,000
The Beast Arises
2015
I Am Slaughter
Dan Abnett
Y
Warhammer 40,000
Gaunt's Ghosts
2017
The Warmaster
Dan Abnett
Y
Warhammer 40,000
Eisenhorn Saga
2018
The Magos
Dan Abnett
Warhammer 40,000
Blood Angels
2017
Mephiston: Blood of Sanguinius
Darius Hinks
Warhammer 40,000
Lords of the Space Marines
2013
Mephiston: Lord of Death
David Annandale
Y
Warhammer 40,000
Space Marine Battles
2013
The Death of Antagonis
David Annandale
Y
Warhammer 40,000
Yarrick
2013
Yarrick: Chains of Golgotha
David Annandale
Y
Warhammer 40,000
Yarrick
2014
Yarrick: Imperial Creed
David Annandale
Y
Warhammer 40,000
Horus Heresy
2014
Damnation of Pythos
David Annandale
Y
Warhammer 40,000
Space Marine Battles
2014
Overfiend
David Annandale
Y
Warhammer 40,000
Sanctus Reach
2014
Maledictus
David Annandale
Y
Warhammer 40,000
Lords of the Space Marines
2015
Lemartes: Guardian of the Lost
David Annandale
Y
Warhammer 40,000
Yarrick
2015
Yarrick: Pyres of Armageddon
David Annandale
Y
Warhammer 40,000
Grey Knights
2015
Sons of Titan
David Annandale
Y
Warhammer 40,000
Horus Heresy
2015
The Unburdened
David Annandale
Y
Warhammer 40,000
War Zone Fenris
2016
Curse of the Wulfen
David Annandale
Y
Warhammer 40,000
The Beast Arises
2016
The Last Wall
David Annandale
Y
Warhammer 40,000
The Primarchs
2016
Roboute Guilliman
David Annandale
Warhammer 40,000
The Beast Arises
2016
The Hunt for Vulkan
David Annandale
Y
Warhammer 40,000
The Beast Arises
2016
Watchers in Death
David Annandale
Warhammer 40,000
Grey Knights
2016
Warden of the Blade
David Annandale
Y
Warhammer 40,000
-
2017
Warlord: Fury of the God Machine
David Annandale
Y
Warhammer 40,000
Horus Heresy
2017
Ruinstorm
David Annandale
Warhammer 40,000
Grey Knights
2018
Castellan
David Annandale
Warhammer 40,000
Omnibus
2018
Yarrick: The Omnibus
David Annandale
Warhammer 40,000
The Beast Arises
2016
Echoes of the Long War
David Guymer
Y
Warhammer 40,000
The Beast Arises
2016
The Last Son of Dorn
David Guymer
Y
Warhammer 40,000
Iron Hands
2017
The Eye of Medusa
David Guymer
Warhammer 40,000
Iron Hands
2018
The Voice of Mars
David Guymer
Warhammer 40,000
Last Chancer
2000
13th Legion
Gav Thorpe
Y
Warhammer 40,000
Last Chancer
2001
Kill Team
Gav Thorpe
Y
Warhammer 40,000
Dark Angels
2003
Angels of Darkness
Gav Thorpe
Y
Warhammer 40,000
Last Chancer
2004
Annihilation Squad
Gav Thorpe
Y
Warhammer 40,000
Omnibus
2006
The Last Chancers
Gav Thorpe
Y
Warhammer 40,000
-
2009
Space Hulk
Gav Thorpe
Y
Warhammer 40,000
Path of the Eldar
2010
Path of the Warrior
Gav Thorpe
Y
Warhammer 40,000
Path of the Eldar
2011
Path of the Seer
Gav Thorpe
Y
Warhammer 40,000
Space Marine Battles
2011
The Purging of Kadillus
Gav Thorpe
Y
Warhammer 40,000
Space Marine Battles
2012
Catechism of Hate
Gav Thorpe
Y
Warhammer 40,000
Horus Heresy
2012
Deliverance Lost
Gav Thorpe
Y
Warhammer 40,000
Path of the Eldar
2012
Path of the Outcast
Gav Thorpe
Y
Warhammer 40,000
Dark Angels
2013
Ravenwing
Gav Thorpe
Y
Warhammer 40,000
Horus Heresy
2013
Corax: Soulforge
Gav Thorpe
Y
Warhammer 40,000
Omnibus
2014
Path of the Eldar
Gav Thorpe
Y
Warhammer 40,000
Horus Heresy
2014
Ravenlord
Gav Thorpe
Y
Warhammer 40,000
Dark Angels
2014
Master of Sanctity
Gav Thorpe
Y
Warhammer 40,000
-
2014
Sin of Damnation
Gav Thorpe
Y
Warhammer 40,000
-
2015
Asurmen: Hand of Asuryan
Gav Thorpe
Y
Warhammer 40,000
Dark Angels
2015
Lords of Caliban
Gav Thorpe
Y
Warhammer 40,000
Dark Angels
2015
The Unforgiven
Gav Thorpe
Y
Warhammer 40,000
The Beast Arises
2016
The Emperor Expects
Gav Thorpe
Y
Warhammer 40,000
Horus Heresy
2016
Angels of Caliban
Gav Thorpe
Y
Warhammer 40,000
The Beast Arises
2016
The Beast Must Die
Gav Thorpe
Y
Warhammer 40,000
Horus Heresy Anthology
2016
Corax
Gav Thorpe
Y
Warhammer 40,000
Omnibus
2016
Legacy of Caliban
Gav Thorpe
Y
Warhammer 40,000
Space Marine Legends
2016
Azrael
Gav Thorpe
Y
Warhammer 40,000
-
2017
Jain Zar: The Storm of Silence
Gav Thorpe
Warhammer 40,000
The Primarchs
2017
Lorgar: Bearer of the Word
Gav Thorpe
Warhammer 40,000
Eldar
2017
Ghost Warrior: Rise of the Ynnari
Gav Thorpe
Warhammer 40,000
Space Marine Conquests
2017
Ashes of Prospero
Gav Thorpe
Warhammer 40,000
Adeptus Titanicus
2018
Imperator: Wrath of the Omnissiah
Gav Thorpe
Warhammer 40,000
Raven Guard
2012
The Unkindness of Ravens
George Mann
Y
Warhammer 40,000
Raven Guard
2015
Sons of Corax
George Mann
Y
Warhammer 40,000
Space Marine Legends
2016
Shrike
George Mann
Warhammer 40,000
Gothic War
2001
Execution Hour
Gordon Rennie
Y
Warhammer 40,000
Gothic War
2003
Shadowpoint
Gordon Rennie
Y
Necromunda
Necromunda
2005
Blood Royal
Gordon Rennie, Will McDermott
Y
Warhammer 40,000
Ultramarine Saga
2002
Nightbringer
Graham McNeill
Y
Warhammer 40,000
Iron Warriors
2002
Storm of Iron
Graham McNeill
Y
Warhammer 40,000
Ultramarine Saga
2003
Warriors of Ultramar
Graham McNeill
Y
Warhammer 40,000
Ultramarine Saga
2004
Dead Sky, Black Sun
Graham McNeill
Y
Warhammer 40,000
Horus Heresy
2006
False Gods
Graham McNeill
Y
Warhammer 40,000
Horus Heresy
2007
Fulgrim
Graham McNeill
Y
Warhammer 40,000
Horus Heresy
2008
Mechanicum
Graham McNeill
Y
Warhammer 40,000
Ultramarine Saga
2008
The Killing Ground
Graham McNeill
Y
Warhammer 40,000
Omnibus
2008
The Ultramarines Omnibus
Graham McNeill
Y
Warhammer 40,000
Ultramarine Saga
2009
Courage and Honour
Graham McNeill
Y
Warhammer 40,000
Horus Heresy
2010
A Thousand Sons
Graham McNeill
Y
Warhammer 40,000
Iron Warriors
2010
Iron Warrior
Graham McNeill
Y
Warhammer 40,000
Ultramarine Saga
2010
The Chapter's Due
Graham McNeill
Y
Warhammer 40,000
Horus Heresy
2011
The Outcast Dead
Graham McNeill
Y
Warhammer 40,000
Omnibus
2012
Iron Warriors: The Omnibus
Graham McNeill
Y
Warhammer 40,000
Mechanicum
2012
Priests of Mars
Graham McNeill
Y
Warhammer 40,000
Omnibus
2012
Ultramarines: The Second Omnibus
Graham McNeill
Y
Warhammer 40,000
Horus Heresy
2012
Angel Exterminatus
Graham McNeill
Y
Warhammer 40,000
Mechanicum
2013
Lords of Mars
Graham McNeill
Y
Warhammer 40,000
-
2014
Knights of the Imperium
Graham McNeill
Y
Warhammer 40,000
Horus Heresy
2014
Vengeful Spirit
Graham McNeill
Y
Warhammer 40,000
Mechanicum
2014
Gods of Mars
Graham McNeill
Y
Warhammer 40,000
Horus Heresy
2014
The Seventh Serpent
Graham McNeill
Y
Warhammer 40,000
The Primarchs
2017
Magnus the Red: Master of Prospero
Graham McNeill
Warhammer 40,000
Horus Heresy
2017
The Crimson King
Graham McNeill
Y
Warhammer 40,000
Omnibus
2017
Forges of Mars
Graham McNeill
Y
Warhammer 40,000
Imperial Guard
2013
Baneblade
Guy Haley
Y
Warhammer 40,000
Space Marine Battles
2013
Death of Integrity
Guy Haley
Y
Warhammer 40,000
Apocalypse
2014
Valedor
Guy Haley
Y
Warhammer 40,000
Apocalypse
2014
The Last Days of Ector
Guy Haley
Y
Warhammer 40,000
Sanctus Reach
2014
Evil Sun Rising
Guy Haley
Y
Warhammer 40,000
Space Marine Battles
2015
The Eternal Crusader
Guy Haley
Y
Warhammer 40,000
Horus Heresy Ebook
2015
Pharos
Guy Haley
Y
Warhammer 40,000
The Beast Arises
2016
Throneworld
Guy Haley
Y
Warhammer 40,000
Anthology
2016
Crusaders of Dorn
Guy Haley
Y
Warhammer 40,000
Imperial Guard
2016
Shadowsword
Guy Haley
Y
Warhammer 40,000
The Beast Arises
2016
The Beheading
Guy Haley
Y
Warhammer 40,000
Blood angels
2017
Dante
Guy Haley
Y
Warhammer 40,000
The Primarchs
2017
Perturabo: Hammer of Olympia
Guy Haley
Warhammer 40,000
-
2017
Dark Imperium
Guy Haley
Y
Warhammer 40,000
Space Marine Conquests
2017
Devastation of Baal
Guy Haley
Warhammer 40,000
Horus Heresy
2018
Wolfsbane
Guy Haley
Warhammer 40,000
Bastion Wars
2009
Emperor's Mercy
Henry Zou
Y
Warhammer 40,000
Bastion Wars
2010
Flesh and Iron
Henry Zou
Y
Warhammer 40,000
Bastion Wars
2011
Blood Gorgons
Henry Zou
Y
Warhammer 40,000
Omnibus
2014
Bastion Wars The Omnibus
Henry Zou
Y
Warhammer 40,000
Legends of the Dark Millennuim
2016
Deathwatch
Ian St Martin
Y
Warhammer 40,000
Chaos Space Marines
2017
Lucius: The Faultless Blade
Ian St Martin
Warhammer 40,000
Inquisition Wars
1990
Inquisitor/Draco
Ian Watson
Y
Warhammer 40,000
-
1993
Space Marine
Ian Watson
Y
Warhammer 40,000
Inquisition Wars
1994
Harlequin
Ian Watson
Y
Warhammer 40,000
Inquisition Wars
1995
Chaos Child
Ian Watson
Y
Warhammer 40,000
Omnibus
2004
Inquisition Wars
Ian Watson
Y
Warhammer 40,000
Blood Angel Saga
2004
Deus Encarmine
James Swallow
Y
Warhammer 40,000
Blood Angel Saga
2005
Deus Sanguinius
James Swallow
Y
Warhammer 40,000
Sisters of Battle
2006
Faith and Fire
James Swallow
Y
Warhammer 40,000
Horus Heresy
2007
The Flight of the Eisenstein
James Swallow
Y
Warhammer 40,000
Blood Angel Saga
2008
Red Fury
James Swallow
Y
Warhammer 40,000
Omnibus
2008
The Blood Angels omnibus
James Swallow
Y
Warhammer 40,000
Blood Angel Saga
2010
Black Tide
James Swallow
Y
Warhammer 40,000
Horus Heresy
2010
Nemesis
James Swallow
Y
Warhammer 40,000
Sisters of Battle
2011
Hammer & Anvil
James Swallow
Y
Warhammer 40,000
Omnibus
2012
Blood Angels: The Second Omnibus
James Swallow
Y
Warhammer 40,000
Horus Heresy
2012
Fear to Tread
James Swallow
Y
Warhammer 40,000
Horus Heresy
2015
Garro: Vow of Faith
James Swallow
Y
Warhammer 40,000
Horus Heresy
2017
Garro
James Swallow
Y
Warhammer 40,000
Omnibus
2017
Sisters of Battle
James Swallow
Y
Warhammer 40,000
Shield of Baal
2014
Devourer
Joe Parrino
Y
Warhammer 40,000
-
2015
Assassinorum Execution Force
Joe Parrino
Y
Warhammer 40,000
Ahriman Trilogy
2013
Ahriman: Exile
John French
Y
Warhammer 40,000
Horus Heresy
2013
Tallarn: Executioner
John French
Y
Warhammer 40,000
Horus Heresy
2014
The Crimson Fist
John French
Y
Warhammer 40,000
Ahriman Trilogy
2014
Ahriman: Sorcerer
John French
Y
Warhammer 40,000
Horus Heresy
2015
Tallarn: Ironclad
John French
Y
Warhammer 40,000
Ahriman Trilogy
2015
Ahriman: Unchanged
John French
Y
Warhammer 40,000
Ahriman Trilogy
2015
Ahriman: Exodus
John French
Y
Warhammer 40,000
Horus Heresy
2016
Praetorian of Dorn
John French
Y
Warhammer 40,000
The Horusian Wars
2017
The Horusian Wars: Resurrection
John French
Y
Warhammer 40,000
Omnibus
2017
Ahriman: The Omnibus
John French
Y
Warhammer 40,000
Horus Heresy Anthology
2017
Tallarn
John French
Y
Warhammer 40,000
Armageddon
2003
Crusade for Armageddon
Jonathan Green
Y
Warhammer 40,000
Iron Hands
2004
Iron Hands
Jonathan Green
Y
Warhammer 40,000
Armageddon
2005
Conquest of Armageddon
Jonathan Green
Y
Warhammer 40,000
Shield of Baal
2014
Deathstorm
Josh Reynolds
Y
Warhammer 40,000
Space Marine Battles
2015
Dante's Canyon
Josh Reynolds
Y
Warhammer 40,000
Fabius
2016
Fabius Bile Primogenitor
Josh Reynolds
Y
Warhammer 40,000
The Primarchs
2017
Fulgrim: The Palatine Pheonix
Josh Reynolds
Warhammer 40,000
Fabius
2017
Fabius Bile Clonelord
Josh Reynolds
Warhammer 40,000
Space Wolves
2018
Lukas The Trickster
Josh Reynolds
Warhammer 40,000
Space Marine Battles
2016
Storm of Damocles
Justin D. Hill
Warhammer 40,000
Imperial Guard
2017
Cadia Stands
Justin D. Hill
Warhammer 40,000
Space Marine Battles
2017
Slaughter at Giant's Coffin
Laurie Goulding
Y
Warhammer 40,000
Space Marine Battles
2017
Scythes of the Emperor
Laurie Goulding
Y
Warhammer 40,000
Space Wolf Saga
2007
Sons of Fenris
Lee Lightner
Y
Warhammer 40,000
Space Wolf Saga
2008
Wolf's Honour
Lee Lightner
Y
Warhammer 40,000
Omnibus
2009
Space Wolf: The Second Omnibus
Lee Lightner
Y
Necromunda
Necromunda
2006
Fleshworks
Lucien Soulban
Y
Warhammer 40,000
-
2007
Desert Raiders
Lucien Soulban
Y
Warhammer 40,000
Anthology
1990
Deathwing
many
Y
Warhammer 40,000
Anthology
1999
Into The Maelstrom
many
Y
Necromunda
Necromunda
2000
Status: Deadzone
many
Y
Warhammer 40,000
Anthology
2001
Dark Imperium
many
Y
Warhammer 40,000
Anthology
2002
Words of Blood
many
Y
Warhammer 40,000
Anthology
2003
Crucible of War
many
Y
Warhammer 40,000
Anthology
2004
What Price Victory
many
Y
Warhammer 40,000
Anthology
2005
Bringers of Death
many
Y
Warhammer 40,000
Anthology
2006
Let The Galaxy Burn
many
Y
Warhammer 40,000
Anthology
2006
Tales from the Dark Millennium
many
Y
Warhammer 40,000
Anthology
2008
Planetkill
many
Y
Warhammer 40,000
Anthology
2009
Heroes of the Space Marines
many
Y
Warhammer 40,000
Horus Heresy Anthology
2009
Tales of Heresy
many
Y
Warhammer 40,000
Anthology
2010
Fear the Alien
many
Y
Warhammer 40,000
Anthology
2010
Legends of the Space Marines
many
Y
Warhammer 40,000
Anthology
2010
Sabbat Worlds anthology
many
Y
Warhammer 40,000
Horus Heresy Anthology
2011
Age of Darkness
many
Y
Warhammer 40,000
Omnibus
2011
Hammer of the Emperor
many
Y
Warhammer 40,000
Anthology
2011
Victories of the Space Marines
many
Y
Warhammer 40,000
Anthology
2012
Architect of Fate
many
Y
Warhammer 40,000
Omnibus
2012
Best of Hammer and Bolter: V1
many
Y
Warhammer 40,000
Anthology
2012
The Black Library Weekender VOlume One
many
Y
Warhammer 40,000
Anthology
2012
The Black Library Weekender Volume Two
many
Y
Warhammer 40,000
Horus Heresy Anthology
2012
The Primarchs
many
Y
Warhammer 40,000
Anthology
2012
Treacheries of the Space Marines
many
Y
Warhammer 40,000
Horus Heresy Anthology
2012
Shadows of Treachery
many
Y
Warhammer 40,000
Omnibus
2012
Xenos Hunters
many
Y
Warhammer 40,000
Horus Heresy Anthology
2012
The Scripts
many
Y
Warhammer 40,000
Anthology
2012
The Space Marine Script Book
many
Y
Warhammer 40,000
Omnibus
2013
Best of Hammer and Bolter: V2
many
Y
Warhammer 40,000
Omnibus
2013
The Book of the Lion
many
Y
Warhammer 40,000
Horus Heresy Anthology
2013
Mark of Calth
many
Y
Warhammer 40,000
Horus Heresy Anthology
2013
The Imperial Truth
many
Y
Warhammer 40,000
Omnibus
2013
Space Marines: The Omnibus
many
Y
Warhammer 40,000
Anthology
2013
Space Marines: Angels of Death
many
Y
Warhammer 40,000
Anthology
2013
The Black Library Anthology 2013/14
many
Y
Warhammer 40,000
Anthology
2013
There Is Only War
many
Y
Warhammer 40,000
Anthology
2014
Deathwatch: Xenos Hunters
many
Y
Warhammer 40,000
Anthology
2014
The Space Marine Script Book 2
many
Y
Warhammer 40,000
Anthology
2014
Renegades of the Dark Millennium
many
Y
Warhammer 40,000
Omnibus
2014
Honour Imperialis
many
Y
Warhammer 40,000
Omnibus
2014
Damocles
many
Y
Warhammer 40,000
Horus Heresy Anthology
2014
The Scripts Volume 2
many
Y
Warhammer 40,000
Horus Heresy Anthology
2014
Sedition's Gate
many
Y
Warhammer 40,000
Horus Heresy Anthology
2014
Death and Defiance
many
Y
Warhammer 40,000
Omnibus
2014
The War For Rynn's World
many
Y
Warhammer 40,000
Omnibus
2014
Warriors of the Imperium
many
Y
Warhammer 40,000
Anthology
2014
Honour of the Space Marines
many
Y
Warhammer 40,000
Anthology
2014
Sabbat Crusade
many
Y
Warhammer 40,000
Horus Heresy Anthology
2014
Legacies of Betrayal
many
Y
Warhammer 40,000
Anthology
2014
Angels of Death
many
Y
Warhammer 40,000
Horus Heresy Anthology
2014
Whispers of Heresy
many
Y
Warhammer 40,000
Horus Heresy Anthology
2015
Blades of the Traitor
many
Y
Warhammer 40,000
Omnibus
2015
Defenders of Mankind
many
Y
Warhammer 40,000
Anthology
2015
The Carnac Campaign
many
Y
Warhammer 40,000
Horus Heresy Anthology
2015
Meduson
many
Y
Warhammer 40,000
Horus Heresy Anthology
2015
Macragge's Honour
many
Y
Warhammer 40,000
Anthology
2015
Shas'o
many
Y
Warhammer 40,000
Anthology
2015
Legends of the Dark Millennium: Ultramarines
many
Y
Warhammer 40,000
Anthology
2015
Sanctus Reach
many
Y
Warhammer 40,000
Anthology
2015
Legends of the Dark Millennium: Astra Militarum
many
Y
Warhammer 40,000
Horus Heresy Anthology
2016
War Without End
many
Y
Warhammer 40,000
Anthology
2016
Legends of the Dark Millennium: Space Wolves
many
Y
Warhammer 40,000
Horus Heresy Omnibus
2016
Crusade's End
many
Y
Warhammer 40,000
Anthology
2016
Deathwatch Ignition
many
Y
Warhammer 40,000
Horus Heresy Anthology
2016
Eye of Terra
many
Y
Warhammer 40,000
Horus Heresy Omnibus
2016
The Last Phoenix
many
Y
Warhammer 40,000
Horus Heresy Anthology
2016
The Silent War
many
Y
Warhammer 40,000
Anthology
2016
The Plagues of Orath
many
Y
Warhammer 40,000
Horus Heresy Omnibus
2016
The Razing of Prospero
many
Y
Warhammer 40,000
Horus Heresy Anthology
2016
Meduson Ultimate Edition
many
Y
Warhammer 40,000
Omnibus
2016
The Tau Empire
many
Y
Warhammer 40,000
Omnibus
2016
Shield of Baal
many
Y
Warhammer 40,000
Anthology
2016
Black Library Live! Chapbook 2016
many
Y
Warhammer 40,000
Horus Heresy Omnibus
2017
Shattered Legions
many
Y
Warhammer 40,000
Omnibus
2017
Legacy of the Wulfen
many
Y
Warhammer 40,000
Omnibus
2017
Glory Imperialis
many
Y
Necromunda
Omnibus
2017
Kal Jerico
many
Y
Warhammer 40,000
Anthology
2017
Deathwatch: The Omnibus
many
Warhammer 40,000
Anthology
2017
Crusade
many
Warhammer 40,000
Anthology
2017
Black Library Events Anthology 2017/18
many
Y
Warhammer 40,000
Horus Heresy Anthology
2018
The Burden of Loyalty
many
Warhammer 40,000
Horus Heresy Anthology
2018
Sons of the Emperor
many
Warhammer 40,000
Anthology
2018
Black Library Celebration 2018
many
Y
Warhammer 40,000
Imperial Guard
2013
Iron Guard
Mark Clapham
Y
Warhammer 40,000
Space Marine Battles
2016
Tyrant of the Hollow Worlds
Mark Clapham
Y
Necromunda
Necromunda
2006
Outlander
Matt Keefe
Y
Warhammer 40,000
Iron Hands
2016
Medusan Wings
Matt Westbrook
Y
Warhammer 40,000
Shira Calpurnia Series
2003
Crossfire
Matthew Farrer
Y
Warhammer 40,000
Shira Calpurnia Series
2004
Legacy
Matthew Farrer
Y
Necromunda
Necromunda
2005
Junktion
Matthew Farrer
Y
Warhammer 40,000
Shira Calpurnia Series
2006
Blind
Matthew Farrer
Y
Warhammer 40,000
Omnibus
2010
Enforcer
Matthew Farrer
Y
Warhammer 40,000
Horus Heresy
2009
Fallen Angels
Mike Lee
Y
Warhammer 40,000
Space Marine Battles
2013
Traitor's Gorge
Mike Lee
Y
Warhammer 40,000
Crimson Fists
2018
Legacy of Dorn
Mike Lee
Warhammer 40,000
-
2005
Fifteen Hours
Mitchel Scanlon
Y
Warhammer 40,000
Horus Heresy
2007
Descent of Angels
Mitchel Scanlon
Y
Necromunda
Necromunda
2006
Back from the Dead
Nick Kyme
Y
Warhammer 40,000
Assault on Black Reach
2008
Assault on Black Reach: The Novel
Nick Kyme
Y
Warhammer 40,000
Salamanders
2009
Salamander
Nick Kyme
Y
Warhammer 40,000
Salamanders
2010
Firedrake
Nick Kyme
Y
Warhammer 40,000
Salamanders
2011
Nocturne
Nick Kyme
Y
Warhammer 40,000
Horus Heresy
2011
Promethean Sun
Nick Kyme
Y
Warhammer 40,000
Space Marine Battles
2011
The Fall of Damnos
Nick Kyme
Y
Warhammer 40,000
Salamanders
2012
Tome of Fire
Nick Kyme
Y
Warhammer 40,000
Horus Heresy
2013
Vulkan Lives
Nick Kyme
Y
Warhammer 40,000
Horus Heresy
2013
Scorched Earth
Nick Kyme
Y
Warhammer 40,000
Omnibus
2013
Salamanders The Omnibus
Nick Kyme
Y
Warhammer 40,000
Space Marine Battles
2013
Damnos
Nick Kyme
Y
Warhammer 40,000
Circle of Fire
2014
Rebirth
Nick Kyme
Warhammer 40,000
Horus Heresy
2015
Deathfire
Nick Kyme
Y
Warhammer 40,000
Space Marine Battles
2015
Spear of Macragge
Nick Kyme
Y
Warhammer 40,000
Horus Heresy
2016
Sons of the Forge
Nick Kyme
Y
Warhammer 40,000
Horus Heresy
2017
Old Earth
Nick Kyme
Warhammer 40,000
Horus Heresy
2018
Born of Flame
Nick Kyme
Warhammer 40,000
Space Marine Battles
2016
Calgar's Siege
Paul Kearney
Y
Warhammer 40,000
Ultramarines
2017
Calgar's Fury
Paul Kearney
Warhammer 40,000
-
2013
Fire Caste
Peter Fehervari
Y
Warhammer 40,000
Legends of the Dark Millennium
2016
Genestealer Cults
Peter Fehervari
Y
Warhammer 40,000
Legends of the Dark Millennium
2015
Farsight
Phil Kelly
Y
Warhammer 40,000
Space Marine Battles
2016
Blades of Damocles
Phil Kelly
Y
Warhammer 40,000
Tau
2017
Farsight: Crisis of Faith
Phil Kelly
Warhammer 40,000
Space Marine Conquests
2018
War of Secrets
Phil Kelly
Warhammer 40,000
-
2008
Relentless
Richard Williams
Y
Warhammer 40,000
Imperial Guard
2011
Imperial Glory
Richard Williams
Y
Warhammer 40,000
Imperial Guard
2010
Redemption Corps
Rob Sanders
Y
Warhammer 40,000
-
2011
Atlas Infernal
Rob Sanders
Y
Warhammer 40,000
Space Marine Battles
2012
Legion of the Damned
Rob Sanders
Y
Warhammer 40,000
Adeptus Mechanicus
2015
Adeptus Mechanicus Skitarius
Rob Sanders
Y
Warhammer 40,000
Adeptus Mechanicus
2015
Adeptus Mechanicus: Tech-Priest
Rob Sanders
Y
Warhammer 40,000
Horus Heresy
2015
Cybernetica
Rob Sanders
Y
Warhammer 40,000
Horus Heresy
2015
The Honoured
Rob Sanders
Y
Warhammer 40,000
The Beast Arises
2016
Predator, Prey
Rob Sanders
Y
Warhammer 40,000
Adeptus Mechanicus
2016
Adeptus Mechanicus
Rob Sanders
Y
Warhammer 40,000
The Beast Arises
2016
Shadow of Ullanor
Rob Sanders
Y
Warhammer 40,000
Alpha Legion
2018
Sons of the Hydra
Rob Sanders
Warhammer 40,000
Warzone Fenris
2016
Legacy of Russ
Robbie Macniven
Y
Warhammer 40,000
Carcharodons
2017
Carcharodons: Red Tithe
Robbie Macniven
Y
Warhammer 40,000
Dawn of War
2017
Dawn of War III
Robbie Macniven
Warhammer 40,000
White Scars
2017
The Last Hunt
Robbie Macniven
Warhammer 40,000
Carcharodons
2018
Carcharodons: Outer Dark
Robbie Macniven
Warhammer 40,000
Ciaphas Cain
2003
For the Emperor
Sandy Mitchell
Y
Warhammer 40,000
Ciaphas Cain
2004
Caves of Ice
Sandy Mitchell
Y
Warhammer 40,000
Omnibus
2005
Hero of the Imperium
Sandy Mitchell
Y
Warhammer 40,000
Ciaphas Cain
2005
The Traitors Hand
Sandy Mitchell
Y
Warhammer 40,000
Ciaphas Cain
2006
Death or Glory
Sandy Mitchell
Y
Warhammer 40,000
Ciaphas Cain
2006
Duty Calls
Sandy Mitchell
Y
Warhammer 40,000
Ciaphas Cain
2008
Cains Last Stand
Sandy Mitchell
Y
Warhammer 40,000
Dark Heresy
2008
Scourge the Heretic
Sandy Mitchell
Y
Warhammer 40,000
Dark Heresy
2009
Innocence Proves Nothing
Sandy Mitchell
Y
Warhammer 40,000
Omnibus
2010
Defender of the Imperium
Sandy Mitchell
Y
Warhammer 40,000
Ciaphas Cain
2010
The Emperor's Finest
Sandy Mitchell
Y
Warhammer 40,000
Ciaphas Cain
2012
The Last Ditch
Sandy Mitchell
Y
Warhammer 40,000
Ciaphas Cain
2012
Old Soldiers Never Die
Sandy Mitchell
Y
Warhammer 40,000
Ciaphas Cain
2013
The Greater Good
Sandy Mitchell
Y
Warhammer 40,000
Space Marine Battles
2011
The Gildar Rift
Sarah Cawkwell
Y
Warhammer 40,000
Ebook Exclusive
2014
Silver Skulls: Portents
Sarah Cawkwell
Y
Warhammer 40,000
-
2003
Fire Warrior
Simon Spurrier
Y
Warhammer 40,000
-
2005
Lord of the Night
Simon Spurrier
Y
Warhammer 40,000
Imperial Guard
2006
Death World
Steve Lyons
Y
Warhammer 40,000
Omnibus
2008
Imperial Guard Omnibus: Volume 1
Steve Lyons
Y
Warhammer 40,000
Imperial Guard
2009
Ice Guard
Steve Lyons
Y
Warhammer 40,000
Imperial Guard
2010
Dead Men Walking
Steve Lyons
Y
Warhammer 40,000
Space Marine Battles
2014
Angron's Monolith
Steve Lyons
Y
Warhammer 40,000
Space Marine Battles
2015
Engines of War
Steve Lyons
Y
Warhammer 40,000
Imperial Guard
2007
Rebel Winter
Steve Parker
Y
Warhammer 40,000
Imperial Guard
2009
Gunheads
Steve Parker
Y
Warhammer 40,000
Space Marine Battles
2010
Rynn's World
Steve Parker
Y
Warhammer 40,000
-
2013
Deathwatch
Steve Parker
Y
Warhammer 40,000
Imperial Guard
2014
Straken
Toby Frost
Y
Necromunda
Necromunda
2006
Cardinal Crimson
Will McDermott
Y
Necromunda
Necromunda
2007
Lasgun Wedding
Will McDermott
Y
Warhammer 40,000
Space Wolf Saga
1999
Space Wolf
William King
Y
Warhammer 40,000
Space Wolf Saga
2000
Ragnar's Claw
William King
Y
Warhammer 40,000
-
2002
Farseer
William King
Y
Warhammer 40,000
Space Wolf Saga
2002
Grey Hunter
William King
Y
Warhammer 40,000
Space Wolf Saga
2003
Wolfblade
William King
Y
Warhammer 40,000
Omnibus
2008
Space Wolf Omnibus
William King
Y
Warhammer 40,000
Macharian Crusade
2012
Angel of Fire
William King
Y
Warhammer 40,000
Macharian Crusade
2013
Fist of Demetrius
William King
Y
Warhammer 40,000
Macharian Crusade
2014
Fall of Macharius
William King
Y
Warhammer 40,000
Omnibus
2017
Macharian Crusade
William King
Y
Short Story List
| Book | Title | Author | Read |
| --- | --- | --- | --- |
| Black Legion Exclusive | A Flash of Silver Among the Corroded Ghosts | Aaron Dembski-Bowden | Y |
| Black Library Direct Download | Abaddon: Chosen of Chaos | Aaron Dembski-Bowden | Y |
| Renegades of the Dark Millennium | Abaddon: Chosen of Chaos | Aaron Dembski-Bowden | Y |
| The Talon of Horus | Abaddon: Chosen of Chaos | Aaron Dembski-Bowden | Y |
| Sabbat Crusade | Arnogaur | Aaron Dembski-Bowden | Y |
| 25 for 25 ebook | At Gaius Point | Aaron Dembski-Bowden | Y |
| Black Library Direct Download | At Gaius Point | Aaron Dembski-Bowden | Y |
| Legends of the Space Marines | At Gaius Point | Aaron Dembski-Bowden | Y |
| Space Marines: The Omnibus | At Gaius Point | Aaron Dembski-Bowden | Y |
| The Book of Blood | At Gaius Point | Aaron Dembski-Bowden | Y |
| There is Only War | At Gaius Point | Aaron Dembski-Bowden | Y |
| Armageddon | Blood and Fire | Aaron Dembski-Bowden | Y |
| Black Library Direct Download | Blood and Fire | Aaron Dembski-Bowden | Y |
| Angron | Butcher's Nails | Aaron Dembski-Bowden | Y |
| Black Library Direct Download | Butcher's Nails | Aaron Dembski-Bowden | Y |
| Legacies of Betrayal | Butcher's Nails | Aaron Dembski-Bowden | Y |
| The Scripts | Butcher's Nails | Aaron Dembski-Bowden | Y |
| Whispers of Heresy | Butcher's Nails | Aaron Dembski-Bowden | Y |
| Black Library Direct Download | Extinction | Aaron Dembski-Bowden | Y |
| Crusade | Extinction | Aaron Dembski-Bowden | Y |
| Gamesday Anthology 2012/13 | Extinction | Aaron Dembski-Bowden | Y |
| The Talon of Horus | Extinction | Aaron Dembski-Bowden | Y |
| 15 Years of Black Library | For the Fallen | Aaron Dembski-Bowden | Y |
| Black Library Direct Download | Heart of the Conqueror | Aaron Dembski-Bowden | Y |
| Legacies of Betrayal | Heart of the Conqueror | Aaron Dembski-Bowden | Y |
| Black Library Direct Download | Howl of the Hearthworld | Aaron Dembski-Bowden | Y |
| Death and Defiance | Howl of the Hearthworld | Aaron Dembski-Bowden | Y |
| The Razing of Prospero | Howl of the Hearthworld | Aaron Dembski-Bowden | Y |
| War Without End | Howl of the Hearthworld | Aaron Dembski-Bowden | Y |
| Black Library Celebration 2018 | Into Exile | Aaron Dembski-Bowden | Y |
| Black Library Direct Download | Into Exile | Aaron Dembski-Bowden | Y |
| The Burden of Loyalty | Into Exile | Aaron Dembski-Bowden | Y |
| Angron | Lord of the Red Sands | Aaron Dembski-Bowden | Y |
| Crusade's End | Lord of the Red Sands | Aaron Dembski-Bowden | Y |
| The Imperial Truth | Lord of the Red Sands | Aaron Dembski-Bowden | Y |
| War Without End | Lord of the Red Sands | Aaron Dembski-Bowden | Y |
| Black Library Direct Download | Massacre | Aaron Dembski-Bowden | Y |
| Eye of Terra | Massacre | Aaron Dembski-Bowden | Y |
| Heroes of the Space Marines | One Hate | Aaron Dembski-Bowden | Y |
| Space Marines: The Omnibus | One Hate | Aaron Dembski-Bowden | Y |
| There is Only War | One Hate | Aaron Dembski-Bowden | Y |
| Black Library Direct Download | Prince of Crows | Aaron Dembski-Bowden | Y |
| Horus Heresy Weekender 2014 | Prince of Crows | Aaron Dembski-Bowden | Y |
| Shadows of Treachery | Prince of Crows | Aaron Dembski-Bowden | Y |
| Honour Imperialis | Regicide | Aaron Dembski-Bowden | Y |
| Sabbat Worlds | Regicide | Aaron Dembski-Bowden | Y |
| Age of Darkness | Savage Weapons | Aaron Dembski-Bowden | Y |
| Black Library Direct Download | Savage Weapons | Aaron Dembski-Bowden | Y |
| Black Library Live Chapbook 2009 | Shadow Knight | Aaron Dembski-Bowden | Y |
| Hammer and Bolter Issue 11 | Shadow Knight | Aaron Dembski-Bowden | Y |
| Night Lords The Omnibus | Shadow Knight | Aaron Dembski-Bowden | Y |
| The Best of Hammer and Bolter Vol 1 | Shadow Knight | Aaron Dembski-Bowden | Y |
| There is Only War | Shadow Knight | Aaron Dembski-Bowden | Y |
| Sons of the Emperor | The Abyssal Edge | Aaron Dembski-Bowden | |
| Fear The Alien | The Core | Aaron Dembski-Bowden | Y |
| Night Lords The Omnibus | The Core | Aaron Dembski-Bowden | Y |
| Black Library Direct Download | The Long Night | Aaron Dembski-Bowden | Y |
| Eye of Terra | The Long Night | Aaron Dembski-Bowden | Y |
| Mark of Calth | The Underworld War | Aaron Dembski-Bowden | Y |
| The Talon of Horus Exclusive | The Wonderworker | Aaron Dembski-Bowden | Y |
| Night Lords The Omnibus | Throne of Lies | Aaron Dembski-Bowden | Y |
| Treacheries of the Space Marines | Throne of Lies | Aaron Dembski-Bowden | Y |
| Black Library Direct Download | Without Fear | Aaron Dembski-Bowden | Y |
| Black Library Direct Download | Stormseeker | Alec Worley | |
| Black Library Direct Download | Whispers | Alec Worley | |
| Into the Maelstrom | Ancient Lances | Alex Hammond | Y |
| Let the Galaxy Burn | Ancient Lances | Alex Hammond | Y |
| Into the Maelstrom | Emperor's Grace | Alex Hammond | Y |
| Let the Galaxy Burn | Emperor's Grace | Alex Hammond | Y |
| The Best of Hammer and Bolter Vol 2 | Death Stares Back | Alex Helm | Y |
| Into the Maelstrom | Unthinking Justice | Andras Millward | Y |
| Let the Galaxy Burn | Unthinking Justice | Andras Millward | Y |
| 25 for 25 ebook | Ancient History | Andy Chambers | Y |
| Dark Imperium | Ancient History | Andy Chambers | Y |
| Let the Galaxy Burn | Ancient History | Andy Chambers | Y |
| Black Library Direct Download | Bellathonis and the Shadow King | Andy Chambers | Y |
| Black Library Live Chapbook 2012 | Bellathonis and the Shadow King | Andy Chambers | Y |
| Words of Blood | Deus ex Mechanicus | Andy Chambers | Y |
| Let the Galaxy Burn | Deus ex Mechanicus | Andy Chambers | Y |
| There is Only War | Deus ex Mechanicus | Andy Chambers | Y |
| Black Library Direct Download | Midnight on the Street of Knives | Andy Chambers | Y |
| There is Only War | Midnight on the Street of Knives | Andy Chambers | Y |
| Black Library Direct Download | The Alien Hunters | Andy Chambers | Y |
| Deathwatch: The Omnibus | The Alien Hunters | Andy Chambers | Y |
| Deathwatch: Xenos Hunters | The Alien Hunters | Andy Chambers | Y |
| Xenos Hunters | The Alien Hunters | Andy Chambers | Y |
| Black Library Direct Download | The Arkunasha War | Andy Chambers | Y |
| Hammer and Bolter Issue 9 | The Arkunasha War | Andy Chambers | Y |
| Shas'o | The Arkunasha War | Andy Chambers | Y |
| The Best of Hammer and Bolter Vol 1 | The Arkunasha War | Andy Chambers | Y |
| Black Library Direct Download | The Treasures of Biel-Tanigh | Andy Chambers | Y |
| Gamesday Anthology 2011/12 | The Treasures of Biel-Tanigh | Andy Chambers | Y |
| Black Library Direct Download | Becoming | Andy Clark | |
| Crusade | Crusade | Andy Clark | |
| Black Library Direct Download | Whiteout | Andy Clark | Y |
| Deathwatch: The Omnibus | Whiteout | Andy Clark | Y |
| Fear The Alien | Ambition Knows No Bounds | Andy Hoare | Y |
| Hammer and Bolter 25 | Cold Trade | Andy Hoare | Y |
| There is Only War | Cold Trade | Andy Hoare | Y |
| What Price Victory | Hunter/Prey | Andy Hoare | Y |
| Treacheries of the Space Marines | The Long War | Andy Hoare | Y |
| Black Library Direct Download | A Son's Burden | Andy Smillie | Y |
| Black Library Direct Download | Astorath the Grim: Redeemer of the Lost | Andy Smillie | Y |
| Flesh Tearers | Astorath the Grim: Redeemer of the Lost | Andy Smillie | Y |
| Trial by Blood | Astorath the Grim: Redeemer of the Lost | Andy Smillie | Y |
| Flesh Tearers | Beneath the Flesh (part 1) | Andy Smillie | Y |
| Hammer and Bolter Issue 15 | Beneath the Flesh (part 1) | Andy Smillie | Y |
| The Best of Hammer and Bolter Vol 2 | Beneath the Flesh (part 1) | Andy Smillie | Y |
| There is Only War | Beneath the Flesh (part 1) | Andy Smillie | Y |
| Trial by Blood | Beneath the Flesh (part 1) | Andy Smillie | Y |
| Flesh Tearers | Beneath the Flesh (part 2) | Andy Smillie | Y |
| Hammer and Bolter Issue 16 | Beneath the Flesh (part 2) | Andy Smillie | Y |
| The Best of Hammer and Bolter Vol 2 | Beneath the Flesh (part 2) | Andy Smillie | Y |
| There is Only War | Beneath the Flesh (part 2) | Andy Smillie | Y |
| Trial by Blood | Beneath the Flesh (part 2) | Andy Smillie | Y |
| Black Library Direct Download | Blood in the Machine | Andy Smillie | Y |
| Flesh Tearers | Blood in the Machine | Andy Smillie | Y |
| Trial by Blood | Blood in the Machine | Andy Smillie | Y |
| Black Library Direct Download | Death Speakers | Andy Smillie | Y |
| Space Marines: Angels of Death | Death Speakers | Andy Smillie | Y |
| Black Library Direct Download | Death's Shepherd | Andy Smillie | Y |
| Flesh Tearers | Death's Shepherd | Andy Smillie | Y |
| The Black Library Anthology 2013/14 | Death's Shepherd | Andy Smillie | Y |
| Trial by Blood | Death's Shepherd | Andy Smillie | Y |
| Sons of Russ Black Library Direct Download | Deathwolf | Andy Smillie | Y |
| Black Library Direct Download | Deathwolf | Andy Smillie | Y |
| Born of Rage | Debt of Blood | Andy Smillie | Y |
| Black Library Direct Download | Divine Will | Andy Smillie | Y |
| Black Library Direct Download | From the Blood | Andy Smillie | Y |
| Flesh Tearers | From the Blood | Andy Smillie | Y |
| Trial by Blood | From the Blood | Andy Smillie | Y |
| Black Library Direct Download | Gabriel Seth: The Flesh Tearer | Andy Smillie | Y |
| Flesh Tearers | Gabriel Seth: The Flesh Tearer | Andy Smillie | Y |
| Trial by Blood | Gabriel Seth: The Flesh Tearer | Andy Smillie | Y |
| 15 Years of Black Library | Immortalis | Andy Smillie | Y |
| Flesh Tearers | Immortalis | Andy Smillie | Y |
| Trial by Blood | Immortalis | Andy Smillie | Y |
| Renegades of the Dark Millennium | Imperfect End | Andy Smillie | Y |
| Black Library Direct Download | Know Thyself | Andy Smillie | Y |
| Black Library Weekender 2012 | Know Thyself | Andy Smillie | Y |
| Flesh Tearers | Know Thyself | Andy Smillie | Y |
| Trial by Blood | Know Thyself | Andy Smillie | Y |
| Black Library Direct Download | Of Gods and Men | Andy Smillie | Y |
| Black Library Direct Download | Reparation | Andy Smillie | Y |
| Hammer and Bolter Issue 13 | Reparation | Andy Smillie | Y |
| The Best of Hammer and Bolter Vol 2 | Reparation | Andy Smillie | Y |
| Black Library Direct Download | Sins of the Father | Andy Smillie | Y |
| Born of Rage | Sins of the Father | Andy Smillie | Y |
| Eye of Terra | Sins of the Father | Andy Smillie | Y |
| Black Library Direct Download | The Herald of Sanguinius | Andy Smillie | Y |
| Eye of Terra | The Herald of Sanguinius | Andy Smillie | Y |
| Black Library Direct Download | The Kauyon | Andy Smillie | Y |
| Shas'o | The Kauyon | Andy Smillie | Y |
| The Tau Empire | The Kauyon | Andy Smillie | Y |
| Black Library Direct Download | The Quickening | Andy Smillie | Y |
| Flesh Tearers | The Quickening | Andy Smillie | Y |
| Trial by Blood | The Quickening | Andy Smillie | Y |
| Black Library Direct Download | The Tau'va | Andy Smillie | Y |
| Shas'o | The Tau'va | Andy Smillie | Y |
| The Tau Empire | The Tau'va | Andy Smillie | Y |
| Flesh Tearers | Torturer's Thirst | Andy Smillie | Y |
| Space Marines: The Omnibus | Torturer's Thirst | Andy Smillie | Y |
| Treacheries of the Space Marines | Torturer's Thirst | Andy Smillie | Y |
| Trial by Blood | Torturer's Thirst | Andy Smillie | Y |
| Black Library Direct Download | Virtues of the Sons | Andy Smillie | Y |
| Death and Defiance | Virtues of the Sons | Andy Smillie | Y |
| War Without End | Virtues of the Sons | Andy Smillie | Y |
| Black Library Direct Download | Dark Heart | Anthony Reynolds | Y |
| Mark of Calth | Dark Heart | Anthony Reynolds | Y |
| Legacies of Betrayal | Kharn: The Eightfold Path | Anthony Reynolds | Y |
| Black Library Direct Download | Lysander: The Fist of Dorn | Anthony Reynolds | Y |
| Tales of Heresy | Scions of the Storm | Anthony Reynolds | Y |
| Black Library Direct Download | The Blessing of Iron | Anthony Reynolds | Y |
| Gamesday Anthology 2012/13 | The Blessing of Iron | Anthony Reynolds | Y |
| Black Library Direct Download | The Infinite Tableau | Anthony Reynolds | Y |
| Deathwatch: The Omnibus | The Infinite Tableau | Anthony Reynolds | Y |
| Deathwatch: Xenos Hunters | The Infinite Tableau | Anthony Reynolds | Y |
| Xenos Hunters | The Infinite Tableau | Anthony Reynolds | Y |
| Black Library Direct Download | The Tallyman | Anthony Reynolds | Y |
| Black Library Direct Download | The Thrill of the Hunt | Anthony Reynolds | Y |
| Space Marines: Angels of Death | The Thrill of the Hunt | Anthony Reynolds | Y |
| Visions of War | The Thrill of the Hunt | Anthony Reynolds | Y |
| Hammer and Bolter Issue 15 | Torment | Anthony Reynolds | Y |
| The Best of Hammer and Bolter Vol 2 | Torment | Anthony Reynolds | Y |
| Word Bearers Omnibus | Torment | Anthony Reynolds | Y |
| There is Only War | Torment | Anthony Reynolds | Y |
| Black Library Direct Download | Vox Dominus | Anthony Reynolds | Y |
| Treacheries of the Space Marines | Vox Dominus | Anthony Reynolds | Y |
| Black Library Direct Download | Above and Beyond | Aron Nemeth | |
| Dark Imperium | Battle of the Archaeosaurs | Barrington J. Bayley | Y |
| Let the Galaxy Burn | Battle of the Archaeosaurs | Barrington J. Bayley | Y |
| Into the Maelstrom | Children of the Emperor | Barrington J. Bayley | Y |
| Let the Galaxy Burn | Children of the Emperor | Barrington J. Bayley | Y |
| Dark Imperium | Hive Fleet Horror | Barrington J. Bayley | Y |
| Dark Imperium | The Lives of Ferag Lion-Wolf | Barrington J. Bayley | Y |
| Let the Galaxy Burn | The Lives of Ferag Lion-Wolf | Barrington J. Bayley | Y |
| There is Only War | The Lives of Ferag Lion-Wolf | Barrington J. Bayley | Y |
| Damocles | Black Leviathan | Ben Counter | Y |
| The Space Marine Script Book Vol 2 | Bloodquest: Prisioners of the Eye of Terror | Ben Counter | Y |
| Black Library Direct Download | Crossed Swords | Ben Counter | Y |
| Dark Imperium | Daemonblood | Ben Counter | Y |
| Let the Galaxy Burn | Daemonblood | Ben Counter | Y |
| Let the Galaxy Burn | Defixio | Ben Counter | Y |
| Words of Blood | Defixio | Ben Counter | Y |
| Renegades of the Dark Millennium | End of Night | Ben Counter | Y |
| Architect of Fate | Endeavour of Will | Ben Counter | Y |
| Black Library Ebundle | Endeavour of Will | Ben Counter | Y |
| Black Library Direct Download | Feast of Lies | Ben Counter | Y |
| Legends of the Dark Millennium: Space Wolves | Feast of Lies | Ben Counter | Y |
| Black Library Direct Download | Gift of the Gods | Ben Counter | Y |
| Dark Imperium | Hellbreak | Ben Counter | Y |
| Let the Galaxy Burn | Hellbreak | Ben Counter | Y |
| Black Library Direct Download | Irixa | Ben Counter | Y |
| Hammer and Bolter Issue 19 | Irixa | Ben Counter | Y |
| The Best of Hammer and Bolter Vol 2 | Irixa | Ben Counter | Y |
| Black Library Direct Download | One Bullet | Ben Counter | Y |
| Deathwatch Ignition | One Bullet | Ben Counter | Y |
| 25 for 25 ebook | Sacrifice | Ben Counter | Y |
| Space Marines: The Omnibus | Sacrifice | Ben Counter | Y |
| Victories of the Space Marines | Sacrifice | Ben Counter | Y |
| Black Library Direct Download | Sammael: Lord of the Eternal Hunt | Ben Counter | Y |
| Black Library Direct Download | Sanctus Reach: Black Gulch | Ben Counter | Y |
| Sanctus Reach | Sanctus Reach: Black Gulch | Ben Counter | Y |
| Black Library Direct Download | Sanctus Reach: Blood on the Mountain | Ben Counter | Y |
| Sanctus Reach | Sanctus Reach: Blood on the Mountain | Ben Counter | Y |
| Sanctus Reach | Sanctus Reach: Iceclaw | Ben Counter | Y |
| Black Library Direct Download | Sanctus Reach: Penumbral Spike | Ben Counter | Y |
| Sanctus Reach | Sanctus Reach: Penumbral Spike | Ben Counter | Y |
| Black Library Direct Download | The Caged Wolf | Ben Counter | Y |
| Legends of the Dark Millennium: Space Wolves | The Caged Wolf | Ben Counter | Y |
| Black Library Direct Download | The Flesh of an Angel | Ben Counter | Y |
| Deathwatch Ignition | The Flesh of an Angel | Ben Counter | Y |
| Black Library Direct Download | The Tithe | Ben Counter | Y |
| Space Marines: Angels of Death | The Tithe | Ben Counter | Y |
| Black Library Direct Download | The Victim's Dance | Ben Counter | Y |
| Arjac Rockfist: Anvil of Fenris Deluxe Edition | Thunderwolf | Ben Counter | Y |
| Arjac Rockfist: Anvil of Fenris | Twelve Wolves | Ben Counter | Y |
| Legends of the Space Marines | Twelve Wolves | Ben Counter | Y |
| Sons of Russ Black Library Direct Download | Twelve Wolves | Ben Counter | Y |
| Space Marines: The Omnibus | Twelve Wolves | Ben Counter | Y |
| There is Only War | Twelve Wolves | Ben Counter | Y |
| Black Library Direct Download | Vermillion | Ben Counter | Y |
| Hammer and Bolter Issue 17 | Vermillion | Ben Counter | Y |
| The Best of Hammer and Bolter Vol 2 | Vermillion | Ben Counter | Y |
| Deathwatch: The Omnibus | Weaponsmith | Ben Counter | Y |
| Deathwatch: Xenos Hunters | Weaponsmith | Ben Counter | Y |
| Xenos Hunters | Weaponsmith | Ben Counter | Y |
| Words of Blood | Words of Blood | Ben Counter | Y |
| Let the Galaxy Burn | Words of Blood | Ben Counter | Y |
| Black Library Direct Download | Aun'shi | Braden Campbell | Y |
| Shas'o | Aun'shi | Braden Campbell | Y |
| The Tau Empire | Aun'shi | Braden Campbell | Y |
| Legends of the Dark Millennium: Astra Militarum | Bloodlord | Braden Campbell | Y |
| Black Library Direct Download | Cepheus | Braden Campbell | Y |
| Deathwatch Ignition | Cepheus | Braden Campbell | Y |
| Hammer and Bolter Issue 8 | Commander Shadow | Braden Campbell | Y |
| Shas'o | Commander Shadow | Braden Campbell | Y |
| The Best of Hammer and Bolter Vol 1 | Commander Shadow | Braden Campbell | Y |
| The Tau Empire | Commander Shadow | Braden Campbell | Y |
| Black Library Direct Download | Hunters | Braden Campbell | Y |
| Hammer and Bolter Issue 13 | Hunters | Braden Campbell | Y |
| Honour Imperialis | Hunters | Braden Campbell | Y |
| The Best of Hammer and Bolter Vol 2 | Hunters | Braden Campbell | Y |
| 25 for 25 ebook | Mistress Baeda's Gift | Braden Campbell | Y |
| Fear The Alien | Mistress Baeda's Gift | Braden Campbell | Y |
| Valentine's Ebundle 2013 | Mistress Baeda's Gift | Braden Campbell | Y |
| There is Only War | Mistress Baeda's Gift | Braden Campbell | Y |
| Deathwatch: The Omnibus | Rackinruin | Braden Campbell | Y |
| Deathwatch: Xenos Hunters | Rackinruin | Braden Campbell | Y |
| Xenos Hunters | Rackinruin | Braden Campbell | Y |
| Shas'o | Shadowsun: The Last of Kiru's Line | Braden Campbell | Y |
| The Tau Empire | Shadowsun: The Last of Kiru's Line | Braden Campbell | Y |
| Black Library Direct Download | Tantalus | Braden Campbell | Y |
| Deathwing | Deathwing | Bryan Ansell & William King | Y |
| Space Marines: The Omnibus | Black Dawn | C.L. Werner | Y |
| Victories of the Space Marines | Black Dawn | C.L. Werner | Y |
| There is Only War | Black Dawn | C.L. Werner | Y |
| Fear The Alien | Iron Inferno | C.L. Werner | Y |
| Black Library Direct Download | Scent of a Traitor | C.L. Werner | Y |
| Legends of the Dark Millennium: Space Wolves | Scent of a Traitor | C.L. Werner | Y |
| Black Library Direct Download | Setting the Stage | C.L. Werner | Y |
| Space Marines: Angels of Death | Setting the Stage | C.L. Werner | Y |
| Black Library Direct Download | Steel Blood | C.L. Werner | Y |
| Black Library Direct Download | The Enigma of Flesh | C.L. Werner | Y |
| Black Library Direct Download | Wrath of the Wolf | C.L. Werner | Y |
| Legends of the Dark Millennium: Space Wolves | Wrath of the Wolf | C.L. Werner | Y |
| Black Library Direct Download | Death Mask | Cavan Scott | Y |
| Sanctus Reach | Death Mask | Cavan Scott | Y |
| Black Library Direct Download | Doom Flight | Cavan Scott | Y |
| Black Library Direct Download | Flayed | Cavan Scott | Y |
| The Black Library Anthology 2013/14 | Flayed | Cavan Scott | Y |
| Black Library Direct Download | Hidden Treasures | Cavan Scott | |
| Black Library Direct Download | Logan Grimnar: Defender of Honour | Cavan Scott | Y |
| Black Library Direct Download | Plague Harvest | Cavan Scott | Y |
| Plagues of Orath | Plague Harvest | Cavan Scott | Y |
| Black Library Direct Download | Trophies | Cavan Scott | Y |
| Space Marines: Angels of Death | Trophies | Cavan Scott | Y |
| Deathwing | Monastery of Death | Charles Stross | Y |
| Black Library Direct Download | Abaddon Denied | Chris Dows | Y |
| The Red Path | Abaddon Denied | Chris Dows | Y |
| Black Library Direct Download | Blood Vision | Chris Dows | Y |
| The Red Path | Blood Vision | Chris Dows | Y |
| Black Library Direct Download | Court of Daemons | Chris Dows | Y |
| The Red Path | Court of Daemons | Chris Dows | Y |
| Black Library Direct Download | Disciples of Kharn | Chris Dows | Y |
| The Red Path | Disciples of Kharn | Chris Dows | Y |
| Black Library Direct Download | First to Hunt | Chris Dows | Y |
| Deathwatch Ignition | First to Hunt | Chris Dows | Y |
| Black Library Direct Download | Furnaces of Haeleon | Chris Dows | Y |
| The Red Path | Furnaces of Haeleon | Chris Dows | Y |
| Black Library Direct Download | Glory from Chaos | Chris Dows | Y |
| Hammer and Bolter Issue 14 | In the Shadow of the Emperor | Chris Dows | Y |
| The Best of Hammer and Bolter Vol 2 | In the Shadow of the Emperor | Chris Dows | Y |
| Black Library Direct Download | Monolith | Chris Dows | Y |
| Glory Imperialis | Monolith | Chris Dows | Y |
| Hammer and Bolter Issue 22 | The Mouth of Chaos | Chris Dows | Y |
| Honour Imperialis | The Mouth of Chaos | Chris Dows | Y |
| The Best of Hammer and Bolter Vol 2 | The Mouth of Chaos | Chris Dows | Y |
| Black Library Direct Download | The Skulls of Salandraxis | Chris Dows | Y |
| The Red Path | The Skulls of Salandraxis | Chris Dows | Y |
| Black Library Direct Download | Will of the Blood God | Chris Dows | Y |
| The Red Path | Will of the Blood God | Chris Dows | Y |
| Black Library Direct Download | Wrath of the Emperor | Chris Dows | Y |
| The Red Path | Wrath of the Emperor | Chris Dows | Y |
| Into the Maelstrom | Into the Maelstrom | Chris Pramas | Y |
| Let the Galaxy Burn | Into the Maelstrom | Chris Pramas | Y |
| Black Library Direct Download | The Black Pearl | Chris Pramas | Y |
| Into the Maelstrom | The Black Pearl | Chris Pramas | Y |
| Let the Galaxy Burn | The Black Pearl | Chris Pramas | Y |
| The Book of the Lion | The Black Pearl | Chris Pramas | Y |
| Heroes of the Space Marines | Gauntlet Run | Chris Roberson | Y |
| Space Marines: The Omnibus | Gauntlet Run | Chris Roberson | Y |
| Black Library Direct Download | Allegiance | Chris Wraight | Y |
| Sedition's Gate | Allegiance | Chris Wraight | Y |
| War Without End | Allegiance | Chris Wraight | Y |
| Black Library Direct Download | Argent | Chris Wraight | Y |
| Black Library Live! Chapbook 2016 | Argent | Chris Wraight | Y |
| Black Library Direct Download | Bjorn: Lone Wolf | Chris Wraight | Y |
| Legacies of Betrayal | Bjorn: Lone Wolf | Chris Wraight | Y |
| Wolves of Fenris | Bjorn: Lone Wolf | Chris Wraight | Y |
| Black Library Direct Download | Bjorn: The Fell-Handed | Chris Wraight | Y |
| Wolves of Fenris | Bjorn: The Fell-Handed | Chris Wraight | Y |
| Black Library Direct Download | Blackshield | Chris Wraight | |
| Watchers of the Throne Exclusive | Blood Guilt | Chris Wraight | Y |
| Black Library Direct Download | Brotherhood of the Moon | Chris Wraight | Y |
| Eye of Terra | Brotherhood of the Moon | Chris Wraight | Y |
| Black Library Direct Download | Daemonology | Chris Wraight | Y |
| Blades of the Traitor | Daemonology | Chris Wraight | Y |
| War Without End | Daemonology | Chris Wraight | Y |
| Black Library Direct Download | Endurance | Chris Wraight | |
| Black Library Direct Download | Failure's Reward | Chris Wraight | Y |
| Wolves of Fenris | Failure's Reward | Chris Wraight | Y |
| Black Library Direct Download | Fatespinner | Chris Wraight | Y |
| Honour of the Space Marines | Fatespinner | Chris Wraight | Y |
| 25 for 25 ebook | Flesh | Chris Wraight | Y |
| Hammer and Bolter Issue 7 | Flesh | Chris Wraight | Y |
| The Best of Hammer and Bolter Vol 1 | Flesh | Chris Wraight | Y |
| There is Only War | Flesh | Chris Wraight | Y |
| Meduson | Grey Talon | Chris Wraight | Y |
| Meduson Ultimate Edition | Grey Talon | Chris Wraight | Y |
| Shattered Legions | Grey Talon | Chris Wraight | Y |
| Meduson Ultimate Edition | Hand Elect | Chris Wraight | Y |
| Shattered Legions | Hand Elect | Chris Wraight | Y |
| Black Library Direct Download | Hunt-Sense | Chris Wraight | Y |
| Black Library Direct Download | Iron Priest | Chris Wraight | Y |
| Space Marines: Angels of Death | Iron Priest | Chris Wraight | Y |
| Wolves of Fenris | Iron Priest | Chris Wraight | Y |
| Black Library Direct Download | Kraken | Chris Wraight | Y |
| Sons of Russ Black Library Direct Download | Kraken | Chris Wraight | Y |
| There is Only War | Kraken | Chris Wraight | Y |
| Wolves of Fenris | Kraken | Chris Wraight | Y |
| Black Library Direct Download | Magisterium | Chris Wraight | |
| Black Library Direct Download | Onyx | Chris Wraight | Y |
| Deathwatch: The Omnibus | Onyx | Chris Wraight | Y |
| Age of Darkness | Rebirth | Chris Wraight | Y |
| The Razing of Prospero | Rebirth | Chris Wraight | Y |
| Black Library Direct Download | Restorer | Chris Wraight | |
| Sons of Russ Black Library Direct Download | Runes | Chris Wraight | Y |
| Space Marines: The Omnibus | Runes | Chris Wraight | Y |
| Victories of the Space Marines | Runes | Chris Wraight | Y |
| The Carrion Throne Exclusive | Sanguine | Chris Wraight | Y |
| Black Library Direct Download | Siegemaster | Chris Wraight | Y |
| Black Library Direct Download | The Chalice | Chris Wraight | Y |
| Black Library Direct Download | The Hunt for Magnus | Chris Wraight | Y |
| War of the Fang | The Hunt for Magnus | Chris Wraight | Y |
| Black Library Celebration 2018 | The Last Son of Prospero | Chris Wraight | Y |
| Black Library Direct Download | The Last Son of Prospero | Chris Wraight | Y |
| Black Library Direct Download | The Sigillite | Chris Wraight | Y |
| The Scripts Vol 2 | The Sigillite | Chris Wraight | Y |
| The Silent War | The Sigillite | Chris Wraight | Y |
| Whispers of Heresy | The Sigillite | Chris Wraight | Y |
| Black Library Direct Download | Unbroken | Chris Wraight | Y |
| Legacies of Betrayal | Wolf's Claw | Chris Wraight | Y |
| Wolves of Fenris | Wolf's Claw | Chris Wraight | Y |
| Black Library Direct Download | Wulfen | Chris Wraight | Y |
| Wolves of Fenris | Wulfen | Chris Wraight | Y |
| Bringers of Death | Menshad Korum | CS Goto | Y |
| Tales from the Dark Millennium | Tears of Blood | CS Goto | Y |
| Black Library Direct Download | The Blood of Angels | CS Goto | Y |
| Inferno! Magazine #42 | The Blood of Angels | CS Goto | Y |
| The Book of Blood | The Blood of Angels | CS Goto | Y |
| Let the Galaxy Burn | The Tower | CS Goto | Y |
| Legends of the Space Marines | The Trial of the Mantis Warriors | CS Goto | Y |
| Space Marines: The Omnibus | The Trial of the Mantis Warriors | CS Goto | Y |
| Dawn of War Omnibus | The Trials of Isador | CS Goto | Y |
| Tales from the Dark Millennium | Vindicare | CS Goto | Y |
| Black Library Direct Download | Atrophy | CZ Dunn | Y |
| Black Library Direct Download | Azrael: Protector of Secrets | CZ Dunn | Y |
| Black Library Direct Download | Bloodspire | CZ Dunn | Y |
| Black Library Direct Download | Crimson Dawn | CZ Dunn | Y |
| 15 Years of Black Library | Easy Prey | CZ Dunn | Y |
| The Book of the Lion | Easy Prey | CZ Dunn | Y |
| Black Library Direct Download | Jackalwolf | CZ Dunn | Y |
| Black Library Direct Download | Malediction | CZ Dunn | Y |
| The Book of the Lion | Malediction | CZ Dunn | Y |
| The Space Marine Script Book Vol 2 | Malediction | CZ Dunn | Y |
| Legion of the Damned: Digital Collection | Ship of the Damned | CZ Dunn | Y |
| Black Library Direct Download | Signal to Noise | CZ Dunn | Y |
| Black Library Weekender 2012 | Signal to Noise | CZ Dunn | Y |
| Black Library Direct Download | Terror Nihil | CZ Dunn | Y |
| Black Library Direct Download | The Watcher | CZ Dunn | Y |
| The Silent War | The Watcher | CZ Dunn | Y |
| Black Library Direct Download | Visage of Zeal | CZ Dunn | Y |
| Space Marines: Angels of Death | Visage of Zeal | CZ Dunn | Y |
| Black Library Direct Download | Within These Walls | CZ Dunn | Y |
| Black Library Live Chapbook 2013 | A Ghost Return | Dan Abnett | Y |
| Black Library Direct Download | A Ghost Return | Dan Abnett | Y |
| Sabbat Crusade | A Ghost Return | Dan Abnett | Y |
| Black Library Direct Download | Backcloth for a Crown Additional | Dan Abnett | Y |
| Crucible of War | Backcloth for a Crown Additional | Dan Abnett | Y |
| Eisenhorn | Backcloth for a Crown Additional | Dan Abnett | Y |
| The Magos | Backcloth for a Crown Additional | Dan Abnett | Y |
| Sabertooth Games E-content | Blind Hopes | Dan Abnett | Y |
| Black Library Direct Download | Blood Games | Dan Abnett | Y |
| Tales of Heresy | Blood Games | Dan Abnett | Y |
| Black Library Direct Download | Born to Us | Dan Abnett | Y |
| Black Library Direct Download | Eternal | Dan Abnett | Y |
| Sabbat Crusade | Family | Dan Abnett | Y |
| Black Library Direct Download | Forgotten | Dan Abnett | Y |
| Fear The Alien | Gardens of Tycho | Dan Abnett | Y |
| The Magos | Gardens of Tycho | Dan Abnett | Y |
| Sabbat Crusade | Ghosts and Bad Shadows | Dan Abnett | Y |
| Black Library Direct Download | In Remembrance | Dan Abnett | Y |
| Gaunt's Ghosts: The Founding | In Remembrance | Dan Abnett | Y |
| Inferno! Magazine #30 | In Remembrance | Dan Abnett | Y |
| 15 Years of Black Library | Kill Hill | Dan Abnett | Y |
| Black Library Direct Download | Killbox | Dan Abnett | Y |
| The Warmaster Exclusive | Killbox | Dan Abnett | Y |
| Age of Darkness | Little Horus | Dan Abnett | Y |
| The Magos | Master Imus's Transgression | Dan Abnett | Y |
| There is Only War | Master Imus's Transgression | Dan Abnett | Y |
| Meduson | Meduson | Dan Abnett | Y |
| Meduson Ultimate Edition | Meduson | Dan Abnett | Y |
| Shattered Legions | Meduson | Dan Abnett | Y |
| Black Library Direct Download | Midnight Rotation | Dan Abnett | Y |
| Sons of the Emperor | Misbegotten | Dan Abnett | |
| Black Library Direct Download | Missing in Action | Dan Abnett | Y |
| Eisenhorn | Missing in Action | Dan Abnett | Y |
| The Magos | Missing in Action | Dan Abnett | Y |
| Words of Blood | Missing in Action | Dan Abnett | Y |
| Ghostmaker | Of Their Lives in the Runis of Their Cities | Dan Abnett | Y |
| Sabbat Worlds | Of Their Lives in the Runis of Their Cities | Dan Abnett | Y |
| Black Library Direct Download | Ork Hunter | Dan Abnett | Y |
| Let the Galaxy Burn | Ork Hunter | Dan Abnett | Y |
| Words of Blood | Ork Hunter | Dan Abnett | Y |
| Black Library Direct Download | Perihelion | Dan Abnett | Y |
| Gamesday Anthology 2012/13 | Perihelion | Dan Abnett | Y |
| The Magos | Perihelion | Dan Abnett | Y |
| The Burden of Loyalty | Perpetual | Dan Abnett | |
| 25 for 25 ebook | Pestilence | Dan Abnett | Y |
| Deathwing | Pestilence | Dan Abnett | Y |
| Let the Galaxy Burn | Pestilence | Dan Abnett | Y |
| The Magos | Pestilence | Dan Abnett | Y |
| There is Only War | Pestilence | Dan Abnett | Y |
| Black Library Direct Download | Playing Patience | Dan Abnett | Y |
| Let the Galaxy Burn | Playing Patience | Dan Abnett | Y |
| Ravenor | Playing Patience | Dan Abnett | Y |
| The Magos | Playing Patience | Dan Abnett | Y |
| There is Only War | Playing Patience | Dan Abnett | Y |
| Black Library Direct Download | Regia Occulta | Dan Abnett | Y |
| The Magos | Regia Occulta | Dan Abnett | Y |
| 25 for 25 ebook | The Curiosity | Dan Abnett | Y |
| Crucible of War | The Curiosity | Dan Abnett | Y |
| The Magos | The Curiosity | Dan Abnett | Y |
| Black Library Direct Download | The Fall of Malvolion | Dan Abnett | Y |
| Let the Galaxy Burn | The Fall of Malvolion | Dan Abnett | Y |
| Tales from the Dark Millennium | The Invitation | Dan Abnett | Y |
| Black Library Direct Download | The Iron Star | Dan Abnett | Y |
| Gamesday Chapbook 2008 | The Iron Star | Dan Abnett | Y |
| Sabbat Worlds | The Iron Star | Dan Abnett | Y |
| Black Library Direct Download | The Keeler Image | Dan Abnett | Y |
| The Magos | The Keeler Image | Dan Abnett | Y |
| Crusade | The Lightening Tower | Dan Abnett | Y |
| Gamesday Chapbook 2007 | The Lightening Tower | Dan Abnett | Y |
| Shadows of Treachery | The Lightening Tower | Dan Abnett | Y |
| The Scripts | The Lightening Tower | Dan Abnett | Y |
| Black Library Direct Download | The Strange Demise of Titus Endor | Dan Abnett | Y |
| Hammer and Bolter Issue 1 | The Strange Demise of Titus Endor | Dan Abnett | Y |
| The Best of Hammer and Bolter Vol 1 | The Strange Demise of Titus Endor | Dan Abnett | Y |
| The Magos | The Strange Demise of Titus Endor | Dan Abnett | Y |
| Black Library Direct Download | Thorn Wishes Talon | Dan Abnett | Y |
| Ravenor | Thorn Wishes Talon | Dan Abnett | Y |
| The Magos | Thorn Wishes Talon | Dan Abnett | Y |
| What Price Victory | Thorn Wishes Talon | Dan Abnett | Y |
| Mark of Calth | Unmarked | Dan Abnett | Y |
| Black Library Direct Download | Vermillion Level | Dan Abnett | Y |
| Inferno! Magazine #30 | Vermillion Level | Dan Abnett | Y |
| Sabbat Crusade | You Never Know | Dan Abnett | Y |
| Black Library Direct Download | Burned | Darius Hinks | |
| What Price Victory | Calculus Logi | Darius Hinks | Y |
| Architect of Fate | Sanctus | Darius Hinks | Y |
| Black Library Ebundle | Sanctus | Darius Hinks | Y |
| Heroes of the Space Marines | And They Shall Know No Fear… | Darren Cox | Y |
| Space Marines: The Omnibus | And They Shall Know No Fear… | Darren Cox | Y |
| Tales from the Dark Millennium | A Balance of Faith | Darren-Jon Ashmore | Y |
| Legends of the Dark Millennium: Astra Militarum | Chains of Golgotha | David Annandale | Y |
| Black Library Direct Download | Eclipse of Hope | David Annandale | Y |
| Mephiston: Lord of Death | Eclipse of Hope | David Annandale | Y |
| Space Marines: The Omnibus | Eclipse of Hope | David Annandale | Y |
| 15 Years of Black Library | Evil Eye | David Annandale | Y |
| Legends of the Dark Millennium: Astra Militarum | Evil Eye | David Annandale | Y |
| Black Library Direct Download | Forge Master | David Annandale | Y |
| Overfiend | Forge Master | David Annandale | Y |
| Black Library Direct Download | Gates of the Devourer | David Annandale | |
| Black Library Direct Download | Honour and Wrath | David Annandale | Y |
| Sons of Titan | Incorruptible | David Annandale | Y |
| Black Library Direct Download | Iron Corpses | David Annandale | Y |
| Eye of Terra | Iron Corpses | David Annandale | Y |
| Warlord: Fury of the Machine God Exclusive | Manifest Destiny | David Annandale | Y |
| Black Library Direct Download | Sacrificial | David Annandale | Y |
| Sedition's Gate | Sermon of Exodus | David Annandale | Y |
| War Without End | Sermon of Exodus | David Annandale | Y |
| Black Library Direct Download | Shadow Captain | David Annandale | Y |
| Overfiend | Shadow Captain | David Annandale | Y |
| Black Library Direct Download | Stormseer | David Annandale | Y |
| Overfiend | Stormseer | David Annandale | Y |
| Black Library Events Anthology 2017/18 | The Atonement of Fire | David Annandale | Y |
| The Burden of Loyalty | The Binary Succession | David Annandale | |
| 25 for 25 ebook | The Carrion Anthem | David Annandale | Y |
| Black Library Direct Download | The Carrion Anthem | David Annandale | Y |
| Hammer and Bolter Issue 11 | The Carrion Anthem | David Annandale | Y |
| The Best of Hammer and Bolter Vol 1 | The Carrion Anthem | David Annandale | Y |
| Treacheries of the Space Marines | The Carrion Anthem | David Annandale | Y |
| There is Only War | The Carrion Anthem | David Annandale | Y |
| Legion of the Damned: Digital Collection | The Dark Hollows of Memory | David Annandale | Y |
| Sabbat Crusade | The Deeper Wounds | David Annandale | Y |
| Lemartes: Guardian of the Lost | The Endless Fall | David Annandale | Y |
| Lemartes: Guardian of the Lost | The Ghosts of Rage | David Annandale | Y |
| Black Library Direct Download | The Judges, In Their Hunger | David Annandale | Y |
| Space Marines: Angels of Death | The Judges, In Their Hunger | David Annandale | Y |
| Sons of Titan | The Mourning Tower | David Annandale | Y |
| Meduson | The Noose | David Annandale | Y |
| Meduson Ultimate Edition | The Noose | David Annandale | Y |
| Shattered Legions | The Noose | David Annandale | Y |
| Mark of Calth | The Traveller | David Annandale | Y |
| Black Library Direct Download | The Tribute of Flesh | David Annandale | Y |
| Defenders of Mankind | The Tribute of Flesh | David Annandale | Y |
| Black Library Direct Download | The Vorago Fastness | David Annandale | Y |
| Deathwatch: The Omnibus | The Vorago Fastness | David Annandale | Y |
| Deathwatch: Xenos Hunters | The Vorago Fastness | David Annandale | Y |
| Xenos Hunters | The Vorago Fastness | David Annandale | Y |
| The Black Library Anthology 2013/14 | The Wreckage | David Annandale | Y |
| Sons of Titan | True Name | David Annandale | Y |
| Black Library Direct Download | Typhus: Herald of the Plague God | David Annandale | Y |
| Legacies of Betrayal | Veritas Ferrum | David Annandale | Y |
| Black Library Direct Download | Yarrick: A Plague of Saints | David Annandale | Y |
| Black Library Direct Download | Yarrick: Concordat | David Annandale | Y |
| Black Library Direct Download | Yarrick: Sarcophagus | David Annandale | Y |
| Crusade | Yarrick: Sarcophagus | David Annandale | Y |
| Legends of the Dark Millennium: Astra Militarum | Yarrick: Sarcophagus | David Annandale | Y |
| Black Library Direct Download | Yarrick: The Gallows Saint | David Annandale | Y |
| Black Library Direct Download | Yarrick: The Wreckage | David Annandale | Y |
| Crucible of War | The Emperor's Will | David Charters | Y |
| Black Library Events Anthology 2017/18 | A Lesson in Iron | David Guymer | Y |
| Black Library Direct Download | Cold Blood | David Guymer | Y |
| Black Library Direct Download | Cold Steel | David Guymer | Y |
| Black Library Direct Download | Deliverance Detail | David Guymer | Y |
| Black Library Direct Download | Final Duty | David Guymer | Y |
| Space Marines: Angels of Death | Final Duty | David Guymer | Y |
| Black Library Direct Download | Infinite Circuit | David Guymer | Y |
| Heroes of the Space Marines | Honour Among Fiends | Dylan Owen | Y |
| Space Marines: The Omnibus | Honour Among Fiends | Dylan Owen | Y |
| Black Library Direct Download | A Hunt In The Dark | Gav Thorpe | Y |
| Legacy of Caliban | A Hunt In The Dark | Gav Thorpe | Y |
| Lords of Caliban | A Hunt In The Dark | Gav Thorpe | Y |
| Legacy of Caliban | Accept No Failure | Gav Thorpe | Y |
| Lords of Caliban | Accept No Failure | Gav Thorpe | Y |
| Into the Maelstrom | Acceptable Losses | Gav Thorpe | Y |
| Let the Galaxy Burn | Acceptable Losses | Gav Thorpe | Y |
| Honour of the Space Marines | All Must End | Gav Thorpe | Y |
| Legacy of Caliban | All Must End | Gav Thorpe | Y |
| Lords of Caliban | All Must End | Gav Thorpe | Y |
| Black Library Direct Download | Battle-Brothers | Gav Thorpe | Y |
| Legacy of Caliban | Battle-Brothers | Gav Thorpe | Y |
| Lords of Caliban | Battle-Brothers | Gav Thorpe | Y |
| Black Library Direct Download | By the Lion's Command | Gav Thorpe | Y |
| The Imperial Truth | By the Lion's Command | Gav Thorpe | Y |
| War Without End | By the Lion's Command | Gav Thorpe | Y |
| Imperator: Wrath of the Omnissiah Exclusive | By Your Command | Gav Thorpe | |
| Tales of Heresy | Call of the Lion | Gav Thorpe | Y |
| Legends of the Dark Millennium: Ultramarines | Catechism of Hate | Gav Thorpe | Y |
| Black Library Direct Download | Dark Son | Gav Thorpe | Y |
| Path of the Eldar | Dark Son | Gav Thorpe | Y |
| Meduson | Deeds Endure | Gav Thorpe | Y |
| Meduson Ultimate Edition | Deeds Endure | Gav Thorpe | Y |
| Shattered Legions | Deeds Endure | Gav Thorpe | Y |
| Last Chancers Omnibus | Deliverance | Gav Thorpe | Y |
| Renegades of the Dark Millennium | Doubt Begets Heresy | Gav Thorpe | Y |
| Black Library Direct Download | Fireheart | Gav Thorpe | |
| Legacies of Betrayal | Guardian of Order | Gav Thorpe | Y |
| Legacy of Caliban | Holder of the Keys | Gav Thorpe | Y |
| Lords of Caliban | Holder of the Keys | Gav Thorpe | Y |
| Black Library Direct Download | Honour of the Third | Gav Thorpe | Y |
| Legacy of Caliban | Honour of the Third | Gav Thorpe | Y |
| Lords of Caliban | Honour of the Third | Gav Thorpe | Y |
| Space Marines: Angels of Death | Honour of the Third | Gav Thorpe | Y |
| Black Library Direct Download | Honour to the Dead | Gav Thorpe | Y |
| Legacies of Betrayal | Honour to the Dead | Gav Thorpe | Y |
| The Scripts Vol 2 | Honour to the Dead | Gav Thorpe | Y |
| Whispers of Heresy | Honour to the Dead | Gav Thorpe | Y |
| Black Library Direct Download | Howl of the Banshee | Gav Thorpe | Y |
| Black Library Direct Download | Inheritor | Gav Thorpe | Y |
| Eye of Terra | Inheritor | Gav Thorpe | Y |
| Black Library Direct Download | Kayvaan Shrike: Shadow Stalker | Gav Thorpe | Y |
| Black Library Direct Download | Know Thine Enemy | Gav Thorpe | Y |
| Dark Imperium | Know Thine Enemy | Gav Thorpe | Y |
| Let the Galaxy Burn | Know Thine Enemy | Gav Thorpe | Y |
| Last Chancers Omnibus | Liberty | Gav Thorpe | Y |
| Words of Blood | Liberty | Gav Thorpe | Y |
| Black Library Direct Download | Master of the First | Gav Thorpe | Y |
| Eye of Terra | Master of the First | Gav Thorpe | Y |
| Black Library Direct Download | Mission: Annihilate | Gav Thorpe | Y |
| Deathwatch: The Omnibus | Mission: Annihilate | Gav Thorpe | Y |
| Space Marines: Angels of Death | Mission: Annihilate | Gav Thorpe | Y |
| The Space Marine Script Book Vol 2 | Mission: Purge | Gav Thorpe | Y |
| Dark Imperium | Nightmare | Gav Thorpe | Y |
| Let the Galaxy Burn | Nightmare | Gav Thorpe | Y |
| Corax | Raptor | Gav Thorpe | Y |
| Words of Blood | Raptor Down | Gav Thorpe | Y |
| Let the Galaxy Burn | Raptor Down | Gav Thorpe | Y |
| Black Library Direct Download | Raven's Flight | Gav Thorpe | Y |
| Shadows of Treachery | Raven's Flight | Gav Thorpe | Y |
| The Scripts | Raven's Flight | Gav Thorpe | Y |
| Heroes of the Space Marines | Renegades | Gav Thorpe | Y |
| Space Marines: The Omnibus | Renegades | Gav Thorpe | Y |
| Black Library Direct Download | Sanguis Irae | Gav Thorpe | Y |
| Sin of Damnation | Sanguis Irae | Gav Thorpe | Y |
| Sons of the Emperor | Shadow of the Past | Gav Thorpe | |
| Black Library Direct Download | Shadows of Heaven | Gav Thorpe | |
| Jain Zar Exclusive | Spirits of Tir-Namagesh | Gav Thorpe | |
| 25 for 25 ebook | Suffer Not the Unclean to Live | Gav Thorpe | Y |
| Deathwing | Suffer Not the Unclean to Live | Gav Thorpe | Y |
| Let the Galaxy Burn | Suffer Not the Unclean to Live | Gav Thorpe | Y |
| There is Only War | Suffer Not the Unclean to Live | Gav Thorpe | Y |
| Path of the Eldar | The Curse of Shaa-Dom | Gav Thorpe | Y |
| Black Library Direct Download | The Board is Set | Gav Thorpe | |
| Black Library Direct Download | The Curse of Shaa-Dom | Gav Thorpe | Y |
| Gamesday Anthology 2011/12 | The Curse of Shaa-Dom | Gav Thorpe | Y |
| Black Library Direct Download | The Divine Word | Gav Thorpe | Y |
| Black Library Weekender 2012 | The Divine Word | Gav Thorpe | Y |
| Legacies of Betrayal | The Divine Word | Gav Thorpe | Y |
| Age of Darkness | The Face of Treachery | Gav Thorpe | Y |
| Black Library Direct Download | The Grey Raven | Gav Thorpe | |
| Black Library Direct Download | The Lion | Gav Thorpe | Y |
| The Primarchs | The Lion | Gav Thorpe | Y |
| Hammer and Bolter Issue 17 | The Lion (part 1) | Gav Thorpe | Y |
| The Best of Hammer and Bolter Vol 2 | The Lion (part 1) | Gav Thorpe | Y |
| Hammer and Bolter Issue 18 | The Lion (part 2) | Gav Thorpe | Y |
| The Best of Hammer and Bolter Vol 2 | The Lion (part 2) | Gav Thorpe | Y |
| Hammer and Bolter Issue 19 | The Lion (part 3) | Gav Thorpe | Y |
| The Best of Hammer and Bolter Vol 2 | The Lion (part 3) | Gav Thorpe | Y |
| Path of the Eldar | The Rewards of Tolerance | Gav Thorpe | Y |
| Space Marines: The Omnibus | The Rewards of Tolerance | Gav Thorpe | Y |
| Victories of the Space Marines | The Rewards of Tolerance | Gav Thorpe | Y |
| Corax | The Shadowmasters | Gav Thorpe | Y |
| Corax: Soulforge | The Shadowmasters | Gav Thorpe | Y |
| The Burden of Loyalty | The Thirteenth Wolf | Gav Thorpe | |
| Black Library Direct Download | The Value of Fear | Gav Thorpe | Y |
| Corax | The Value of Fear | Gav Thorpe | Y |
| Black Library Direct Download | Vengeance of the Immortal | Gav Thorpe | |
| Corax | Weregeld | Gav Thorpe | Y |
| Black Library Direct Download | By Artifice, Alone | George Mann | Y |
| Sons of Corax | By Artifice, Alone | George Mann | Y |
| Space Marines: Angels of Death | By Artifice, Alone | George Mann | Y |
| Sabertooth Games E-content | First Blood: Galadin's Feint | George Mann | Y |
| Sons of Corax | Helion Rain | George Mann | Y |
| The Space Marine Script Book | Helion Rain | George Mann | Y |
| There is Only War | Helion Rain | George Mann | Y |
| Sons of Corax | Labyrinth of Sorrows | George Mann | Y |
| The Space Marine Script Book Vol 2 | Labyrinth of Sorrows | George Mann | Y |
| Black Library Weekender 2012 | Old Scars | George Mann | Y |
| Sons of Corax | Old Scars | George Mann | Y |
| Black Library Direct Download | Prey | George Mann | Y |
| Sons of Corax | Prey | George Mann | Y |
| Sons of Corax | The Unkindness of Ravens | George Mann | Y |
| Black Library Direct Download | With Baited Breath | George Mann | Y |
| Sons of Corax | With Baited Breath | George Mann | Y |
| Black Library Direct Download | Armour of Faith | Graeme Lyon | Y |
| Plagues of Orath | Armour of Faith | Graeme Lyon | Y |
| Black Library Direct Download | Black Iron | Graeme Lyon | Y |
| Legion of the Damned: Digital Collection | From the Flames | Graeme Lyon | Y |
| Black Library Direct Download | Kor'sarro Khan: Huntmaster | Graeme Lyon | Y |
| Black Library Direct Download | Sky Hunter | Graeme Lyon | Y |
| The Carnac Campaign | Sky Hunter | Graeme Lyon | Y |
| Black Library Direct Download | The Librarian's Acolyte | Graeme Lyon | Y |
| Sabbat Worlds | Apostle's Creed | Graham McNeill | Y |
| There is Only War | Apostle's Creed | Graham McNeill | Y |
| GW Website Content | Assault on Nimbosa | Graham McNeill | Y |
| Words of Blood | Business as Usual | Graham McNeill | Y |
| Let the Galaxy Burn | Business as Usual | Graham McNeill | Y |
| Mark of Calth | Calth That Was | Graham McNeill | Y |
| Nightbringer | Chains of Command | Graham McNeill | Y |
| Ultramarines Omnibus 1 | Chains of Command | Graham McNeill | Y |
| Words of Blood | Chains of Command | Graham McNeill | Y |
| Black Library Direct Download | Codex | Graham McNeill | Y |
| Space Marines: Angels of Death | Codex | Graham McNeill | Y |
| Dead Sky, Black Sun | Consequences | Graham McNeill | Y |
| Legends of the Space Marines | Consequences | Graham McNeill | Y |
| Space Marines: The Omnibus | Consequences | Graham McNeill | Y |
| Black Library Direct Download | Death of a Silversmith | Graham McNeill | Y |
| Gamesday Anthology 2011/12 | Death of a Silversmith | Graham McNeill | Y |
| Shadows of Treachery | Death of a Silversmith | Graham McNeill | Y |
| Black Library Direct Download | Do Eagles Still Circle the Mountain? | Graham McNeill | Y |
| Honour of the Space Marines | Do Eagles Still Circle the Mountain? | Graham McNeill | Y |
| Black Library Direct Download | Dust | Graham McNeill | Y |
| Black Library Direct Download | Eye of Vengeance | Graham McNeill | Y |
| Legends of the Dark Millennium: Ultramarines | Eye of Vengeance | Graham McNeill | Y |
| Second Ultramarines Omnibus | Eye of Vengeance | Graham McNeill | Y |
| The Space Marine Script Book | Eye of Vengeance | Graham McNeill | Y |
| Black Library Direct Download | Fear of the Dark | Graham McNeill | Y |
| The Last Phoenix | Fulgrim | Graham McNeill | Y |
| Iron Warriors Omnibus | Iron Warrior | Graham McNeill | Y |
| Hammer and Bolter Issue 17 | Iron Without | Graham McNeill | Y |
| Iron Warriors Omnibus | Iron Without | Graham McNeill | Y |
| The Best of Hammer and Bolter Vol 2 | Iron Without | Graham McNeill | Y |
| There is Only War | Iron Without | Graham McNeill | Y |
| Black Library Direct Download | Kryptos | Graham McNeill | Y |
| Legacies of Betrayal | Kryptos | Graham McNeill | Y |
| Crucible of War | Leviathan | Graham McNeill | Y |
| Warriors of Ultramar | Leviathan | Graham McNeill | Y |
| Legacies of Betrayal | Lucius: The Eternal Blademaster | Graham McNeill | Y |
| The Last Phoenix | Lucius: The Eternal Blademaster | Graham McNeill | Y |
| The Black Library Anthology 2013/14 | Luna Mendax | Graham McNeill | Y |
| Black Library Direct Download | Luna Mendax | Graham McNeill | Y |
| The Silent War | Luna Mendax | Graham McNeill | Y |
| Black Library Direct Download | Marneus Calgar: Lord of Ultramar | Graham McNeill | Y |
| Legends of the Dark Millennium: Ultramarines | Marneus Calgar: Lord of Ultramar | Graham McNeill | Y |
| Space Marines: Angels of Death | Obsidian | Graham McNeill | Y |
| Crucible of War | Payback | Graham McNeill | Y |
| Age of Darkness | Rules of Engagement | Graham McNeill | Y |
| Sons of the Emperor | The Ancient Awaits | Graham McNeill | |
| Iron Warriors Omnibus | The Beast of Calth | Graham McNeill | Y |
| Black Library Direct Download | The Corpse Road | Graham McNeill | Y |
| Renegades of the Dark Millennium | The Corpse Road | Graham McNeill | Y |
| Gamesday Chapbook 2007 | The Dark King | Graham McNeill | Y |
| Shadows of Treachery | The Dark King | Graham McNeill | Y |
| The Scripts | The Dark King | Graham McNeill | Y |
| Black Library Direct Download | The Devine Adoratrice | Graham McNeill | Y |
| The Imperial Truth | The Devine Adoratrice | Graham McNeill | Y |
| War Without End | The Devine Adoratrice | Graham McNeill | Y |
| Meduson | The Either | Graham McNeill | Y |
| Meduson Ultimate Edition | The Either | Graham McNeill | Y |
| Shattered Legions | The Either | Graham McNeill | Y |
| Inferno! Magazine | The Enemy of my Enemy | Graham McNeill | Y |
| Iron Warriors Omnibus | The Enemy of my Enemy | Graham McNeill | Y |
| 25 for 25 ebook | The Heraclitus Effect | Graham McNeill | Y |
| Iron Warriors Omnibus | The Heraclitus Effect | Graham McNeill | Y |
| Planetkill | The Heraclitus Effect | Graham McNeill | Y |
| Black Library Direct Download | The Kaban Project | Graham McNeill | Y |
| Horus Heresy Collected Visions | The Kaban Project | Graham McNeill | Y |
| Shadows of Treachery | The Kaban Project | Graham McNeill | Y |
| Tales of Heresy | The Last Church | Graham McNeill | Y |
| Tales from the Dark Millennium | The Prisioner | Graham McNeill | Y |
| Black Library Direct Download | The Reflection Crack'd | Graham McNeill | Y |
| The Last Phoenix | The Reflection Crack'd | Graham McNeill | Y |
| The Primarchs | The Reflection Crack'd | Graham McNeill | Y |
| 25 for 25 ebook | The Skull Harvest | Graham McNeill | Y |
| Heroes of the Space Marines | The Skull Harvest | Graham McNeill | Y |
| Iron Warriors Omnibus | The Skull Harvest | Graham McNeill | Y |
| Space Marines: The Omnibus | The Skull Harvest | Graham McNeill | Y |
| Black Library Direct Download | The Staff of Asclepius | Graham McNeill | Y |
| Black Library Direct Download | The Wolf of Ash and Fire | Graham McNeill | Y |
| Crusade's End | The Wolf of Ash and Fire | Graham McNeill | Y |
| Eye of Terra | The Wolf of Ash and Fire | Graham McNeill | Y |
| Legacies of Betrayal | Thief of Revelations | Graham McNeill | Y |
| The Razing of Prospero | Thief of Revelations | Graham McNeill | Y |
| Black Library Direct Download | Torias Telion: The Eye of Vengeance | Graham McNeill | Y |
| Legends of the Dark Millennium: Ultramarines | Torias Telion: The Eye of Vengeance | Graham McNeill | Y |
| Black Library Direct Download | Two Kinds of Fool | Graham McNeill | Y |
| Legends of the Dark Millennium: Ultramarines | Two Kinds of Fool | Graham McNeill | Y |
| Deathwing | Unforgiven | Graham McNeill | Y |
| Let the Galaxy Burn | Unforgiven | Graham McNeill | Y |
| The Book of the Lion | Unforgiven | Graham McNeill | Y |
| There is Only War | Unforgiven | Graham McNeill | Y |
| Black Library Direct Download | Wolf Hunt | Graham McNeill | Y |
| The Silent War | Wolf Hunt | Graham McNeill | Y |
| Whispers of Heresy | Wolf Hunt | Graham McNeill | Y |
| Blades of the Traitor | Wolf Mother | Graham McNeill | Y |
| War Without End | Wolf Mother | Graham McNeill | Y |
| Black Library Direct Download | Zero Day Exploit | Graham McNeill | Y |
| Forges of Mars | Zero Day Exploit | Graham McNeill | Y |
| Black Library Direct Download | A Safe and Shadowed Place | Guy Haley | Y |
| Death and Defiance | A Safe and Shadowed Place | Guy Haley | Y |
| War Without End | A Safe and Shadowed Place | Guy Haley | Y |
| Defenders of Mankind | Blood Calm | Guy Haley | Y |
| Space Marines: Angels of Death | Blood Calm | Guy Haley | Y |
| Damocles | Broken Sword | Guy Haley | Y |
| Crusaders of Dorn | Circle of Honour | Guy Haley | Y |
| Honour of the Space Marines | Circle of Honour | Guy Haley | Y |
| Black Library Direct Download | Duty Waits | Guy Haley | |
| Dante Exclusive | Eminence Sanguis | Guy Haley | Y |
| Black Library Direct Download | Emp-Rah's Eye | Guy Haley | |
| Black Library Direct Download | Engine of Mork | Guy Haley | Y |
| Sanctus Reach | Evil Sun Rising | Guy Haley | Y |
| Black Library Direct Download | Final Journey | Guy Haley | Y |
| Defenders of Mankind | Final Journey | Guy Haley | Y |
| Space Marines: Angels of Death | Final Journey | Guy Haley | Y |
| Black Library Direct Download | Grandfather's Gift | Guy Haley | |
| Black Library Direct Download | Helbrecht: The Crusader | Guy Haley | Y |
| Crusaders of Dorn | Helbrecht: The Crusader | Guy Haley | Y |
| Legacies of Betrayal | Hunter's Moon | Guy Haley | Y |
| The Razing of Prospero | Hunter's Moon | Guy Haley | Y |
| Dark Imperium Exclusive | In the Grim Darkness | Guy Haley | Y |
| Black Library Direct Download | Iron Harvest | Guy Haley | Y |
| Sanctus Reach | Klaw of Mork | Guy Haley | Y |
| Black Library Direct Download | Nurgle's Gift | Guy Haley | Y |
| Black Library Direct Download | Only Blood | Guy Haley | Y |
| Crusaders of Dorn | Only Blood | Guy Haley | Y |
| Black Library Direct Download | Santus Reach: Evil Sun Rising | Guy Haley | Y |
| Black Library Direct Download | Season of Shadows | Guy Haley | Y |
| Black Library Direct Download | Stormlord | Guy Haley | Y |
| Legacies of Betrayal | Strike and Fade | Guy Haley | Y |
| Black Library Direct Download | The Black Pilgrims | Guy Haley | Y |
| Crusaders of Dorn | The Black Pilgrims | Guy Haley | Y |
| Sons of the Emperor | The Emperor's Architect | Guy Haley | |
| Black Library Direct Download | The Eternal Crusader | Guy Haley | Y |
| Black Library Direct Download | The Final Compliance of Sixty-Three Fourteen | Guy Haley | Y |
| Eye of Terra | The Final Compliance of Sixty-Three Fourteen | Guy Haley | Y |
| Crusaders of Dorn | The Glorious Tomb | Guy Haley | Y |
| Black Library Direct Download | The Laurel of Defiance | Guy Haley | Y |
| Sedition's Gate | The Laurel of Defiance | Guy Haley | Y |
| War Without End | The Laurel of Defiance | Guy Haley | Y |
| Black Library Direct Download | The Painted Count | Guy Haley | |
| Black Library Direct Download | The Rite of Holos | Guy Haley | Y |
| Defenders of Mankind | The Rite of Holos | Guy Haley | Y |
| Hammer and Bolter Issue 24 | The Rite of Holos | Guy Haley | Y |
| The Best of Hammer and Bolter Vol 2 | The Rite of Holos | Guy Haley | Y |
| Mark of Calth | The Shards of Erebus | Guy Haley | Y |
| Crusaders of Dorn | The Uncanny Crusade | Guy Haley | Y |
| Blades of the Traitors | Twisted | Guy Haley | Y |
| War Without End | Twisted | Guy Haley | Y |
| Meduson | Unforged | Guy Haley | Y |
| Meduson Ultimate Edition | Unforged | Guy Haley | Y |
| Shattered Legions | Unforged | Guy Haley | Y |
| Meduson | Unspoken | Guy Haley | Y |
| Meduson Ultimate Edition | Unspoken | Guy Haley | Y |
| Shattered Legions | Unspoken | Guy Haley | Y |
| Black Library Direct Download | Wraithflight | Guy Haley | Y |
| Planetkill | Voidsong | Henry Zou | Y |
| There is Only War | Voidsong | Henry Zou | Y |
| Black Library Direct Download | City of Ruin | Ian St Martin | Y |
| Deathwatch Ignition | City of Ruin | Ian St Martin | Y |
| Deathwatch: The Omnibus | Deathwatch: Kryptman's War | Ian St Martin | |
| Black Library Direct Download | Deathwatch: Swordwind | Ian St Martin | |
| Deathwatch: The Omnibus | Deathwatch: Swordwind | Ian St Martin | |
| Black Library Direct Download | Hunting Ground | Ian St Martin | |
| Black Library Direct Download | In Wolves' Clothing | Ian St Martin | Y |
| Black Library Direct Download | Lucius: Pride and Fall | Ian St Martin | |
| Deathwing | The Alien Beast Within | Ian Watson | Y |
| The Inquisition War | The Alien Beast Within | Ian Watson | Y |
| Deathwing | Warped Stars | Ian Watson | Y |
| The Inquisition War | Warped Stars | Ian Watson | Y |
| Black Library Direct Download | Wraithbound | J.C. Stearns | |
| Fear The Alien | Unity | James Gilmer | Y |
| Black Library Direct Download | Last Blood | James Mortimore | Y |
| Inferno! Magazine | Blood Cries for Blood | James Peaty | Y |
| The Imperial Truth | All That Remains | James Swallow | Y |
| War Without End | All That Remains | James Swallow | Y |
| Black Library Direct Download | Blood Debt | James Swallow | Y |
| Blood Angels Omnibus 1 | Blood Debt | James Swallow | Y |
| The Book of Blood | Blood Debt | James Swallow | Y |
| 25 for 25 ebook | Bloodline | James Swallow | Y |
| Blood Angels Omnibus 2 | Bloodline | James Swallow | Y |
| Gamesday Chapbook 2010 | Bloodline | James Swallow | Y |
| Hammer and Bolter Issue 23 | Bloodline | James Swallow | Y |
| The Best of Hammer and Bolter Vol 2 | Bloodline | James Swallow | Y |
| Inferno! Magazine #38 | Crimson Night | James Swallow | Y |
| The Book of Blood | Crimson Night | James Swallow | Y |
| What Price Victory | Crimson Night | James Swallow | Y |
| Black Library Direct Download | Dante: Lord of the Host | James Swallow | Y |
| Black Library Direct Download | Exocytosis | James Swallow | |
| Garro | Garro: Ashes of Fealty | James Swallow | Y |
| Garro | Garro: Burden of Duty | James Swallow | Y |
| The Scripts Vol 2 | Garro: Burden of Duty | James Swallow | Y |
| Black Library Direct Download | Garro: Legion of One | James Swallow | Y |
| Garro | Garro: Legion of One | James Swallow | Y |
| The Scripts | Garro: Legion of One | James Swallow | Y |
| Black Library Direct Download | Garro: Oath of Moment | James Swallow | Y |
| Garro | Garro: Oath of Moment | James Swallow | Y |
| The Scripts | Garro: Oath of Moment | James Swallow | Y |
| Garro | Garro: Shield of Lies | James Swallow | Y |
| Garro | Garro: Sword of Truth | James Swallow | Y |
| The Scripts Vol 2 | Garro: Sword of Truth | James Swallow | Y |
| Black Library Direct Download | Ghosts Speak Not | James Swallow | Y |
| The Silent War | Ghosts Speak Not | James Swallow | Y |
| Black Library Direct Download | Gunsight | James Swallow | Y |
| Death and Defiance | Gunsight | James Swallow | Y |
| War Without End | Gunsight | James Swallow | Y |
| Sisters of Battle Omnibus | Heart & Soul | James Swallow | Y |
| Blood Angels Omnibus 2 | Heart of Rage | James Swallow | Y |
| Space Marines: The Omnibus | Heart of Rage | James Swallow | Y |
| The Book of Blood | Heart of Rage | James Swallow | Y |
| The Space Marine Script Book | Heart of Rage | James Swallow | Y |
| Victories of the Space Marines | Heart of Rage | James Swallow | Y |
| Black Library Direct Download | Honours | James Swallow | Y |
| Age of Darkness | Liar's Due | James Swallow | Y |
| Black Library Direct Download | Lost Sons | James Swallow | Y |
| Black Library Weekender 2012 | Lost Sons | James Swallow | Y |
| The Silent War | Lost Sons | James Swallow | Y |
| Black Library Direct Download | Patience | James Swallow | Y |
| The Silent War | Patience | James Swallow | Y |
| Crusade | Red & Black | James Swallow | Y |
| Sisters of Battle Omnibus | Red & Black | James Swallow | Y |
| Blood Angels Omnibus 2 | Redeemed | James Swallow | Y |
| Hammer and Bolter Issue 16 | Redeemed | James Swallow | Y |
| The Best of Hammer and Bolter Vol 2 | Redeemed | James Swallow | Y |
| Black Library Direct Download | Reflection in Blood | James Swallow | Y |
| Black Library Direct Download | Relics | James Swallow | Y |
| Inferno! Magazine #43 | Relics | James Swallow | Y |
| Black Library Direct Download | The Fury | James Swallow | Y |
| Space Marines: Angels of Death | The Fury | James Swallow | Y |
| Legends of the Space Marines | The Returned | James Swallow | Y |
| Space Marines: The Omnibus | The Returned | James Swallow | Y |
| There is Only War | The Returned | James Swallow | Y |
| Black Library Direct Download | The Sanguinor: Exemplar of the Host | James Swallow | Y |
| Tales of Heresy | The Voice | James Swallow | Y |
| Black Library Direct Download | Vigil | James Swallow | Y |
| Space Marines: Angels of Death | Vigil | James Swallow | Y |
| Inferno! Magazine #40 | Wings of Bone | James Swallow | Y |
| Inferno! Magazine | Engage the Enemy | Jeff Smith & Hary Heckel | Y |
| Black Library Direct Download | Plague Ship | Jim Alexander | Y |
| Inferno! Magazine #40 | Plague Ship | Jim Alexander | Y |
| Black Library Direct Download | Cold Roads | Joe Parrino | Y |
| Black Library Direct Download | In Service to Shadows | Joe Parrino | Y |
| Black Library Direct Download | Nightspear | Joe Parrino | Y |
| The Carnac Campaign | Nightspear | Joe Parrino | Y |
| Black Library Direct Download | No Worse Sin | Joe Parrino | Y |
| Space Marines: Angels of Death | No Worse Sin | Joe Parrino | Y |
| Black Library Direct Download | The Patient Hunter | Joe Parrino | Y |
| Shas'o | The Patient Hunter | Joe Parrino | Y |
| The Tau Empire | The Patient Hunter | Joe Parrino | Y |
| Black Library Direct Download | The Shape of the Hunt | Joe Parrino | Y |
| Black Library Direct Download | Witness | Joe Parrino | Y |
| Black Library Direct Download | Ahriman: Gates of Ruin | John French | Y |
| Black Library Direct Download | Ahriman: Hand of Dust | John French | Y |
| Black Library Direct Download | Ahriman: Hounds of Wrath | John French | Y |
| Honour of the Space Marines | Ahriman: Hounds of Wrath | John French | Y |
| Black Library Direct Download | Ahriman: King of Ashes | John French | Y |
| Renegades of the Dark Millennium | Ahriman: King of Ashes | John French | Y |
| Black Library Direct Download | Ahriman: The Dead Oracle | John French | Y |
| 15 Years of Black Library | All Is Dust | John French | Y |
| Mark of Calth | Athame | John French | Y |
| Black Library Direct Download | Black Oculus | John French | Y |
| Blades of the Traitor | Black Oculus | John French | Y |
| War Without End | Black Oculus | John French | Y |
| Black Library Direct Download | Child of Night | John French | Y |
| The Silent War | Child of Night | John French | Y |
| Black Library Direct Download | Crucible | John French | Y |
| Black Library Weekender 2012 | Crucible | John French | Y |
| Architect of Fate | Fateweaver | John French | Y |
| Black Library Ebundle | Fateweaver | John French | Y |
| Black Library Direct Download | Grey Angel | John French | Y |
| The Scripts Vol 2 | Grey Angel | John French | Y |
| The Silent War | Grey Angel | John French | Y |
| Black Library Direct Download | Hunted | John French | Y |
| Hammer and Bolter Issue 4 | Hunted | John French | Y |
| The Best of Hammer and Bolter Vol 1 | Hunted | John French | Y |
| Black Library Direct Download | Now Peals Midnight | John French | |
| Black Library Direct Download | Ordo Sinister | John French | |
| The Burden of Loyalty | Ordo Sinister | John French | |
| Black Library Direct Download | Riven | John French | Y |
| Legacies of Betrayal | Riven | John French | Y |
| Black Library Weekender 2013 | Serpent | John French | Y |
| Legacies of Betrayal | Serpent | John French | Y |
| Sabbat Crusade | Son of Sek | John French | Y |
| Black Library Direct Download | Tallarn: Siren | John French | Y |
| Tallarn | Tallarn: Siren | John French | Y |
| Black Library Direct Download | Tallarn: Witness | John French | Y |
| Tallarn | Tallarn: Witness | John French | Y |
| The Silent War | Templar | John French | Y |
| Black Library Celebration 2018 | The Absolution of Swords | John French | |
| Black Library Direct Download | The Absolution of Swords | John French | |
| Horusian Wars: Resurrection Exclusive | The Blessing of Saints | John French | Y |
| Black Library Direct Download | The Crimson Fist | John French | Y |
| Horus Heresy Weekender 2014 | The Crimson Fist | John French | Y |
| Shadows of Treachery | The Crimson Fist | John French | Y |
| The Last Phoenix | The Crimson Fist | John French | Y |
| Black Library Direct Download | The Eagle's Talon | John French | Y |
| Eye of Terra | The Eagle's Talon | John French | Y |
| Meduson | The Keys of Hel | John French | Y |
| Meduson Ultimate Edition | The Keys of Hel | John French | Y |
| Shattered Legions | The Keys of Hel | John French | Y |
| Age of Darkness | The Last Remembrancer | John French | Y |
| Hammer and Bolter Issue 7 | The Last Remembrancer | John French | Y |
| The Best of Hammer and Bolter Vol 1 | The Last Remembrancer | John French | Y |
| Black Library Direct Download | The Maiden of The Dream | John French | Y |
| Sons of the Emperor | The Passing of Angels | John French | |
| Black Library Direct Download | The Purity of Ignorance | John French | |
| Crusade | The Purity of Ignorance | John French | |
| Black Library Events Anthology 2017/18 | The Son of Sorrows | John French | Y |
| Legacies of Betrayal | Warmaster | John French | Y |
| Black Library Direct Download | We Are One | John French | Y |
| Hammer and Bolter Issue 10 | We Are One | John French | Y |
| The Best of Hammer and Bolter Vol 1 | We Are One | John French | Y |
| Treacheries of the Space Marines | We Are One | John French | Y |
| There is Only War | We Are One | John French | Y |
| Let the Galaxy Burn | Barathrum | Jonathan Curren | Y |
| Words of Blood | Barathrum | Jonathan Curren | Y |
| Into the Maelstrom | The Raven's Claw | Jonathan Curran | Y |
| Let the Galaxy Burn | The Raven's Claw | Jonathan Curran | Y |
| Black Library Direct Download | But Dust in the Wind | Jonathan Green | Y |
| Space Marines: The Omnibus | But Dust in the Wind | Jonathan Green | Y |
| Victories of the Space Marines | But Dust in the Wind | Jonathan Green | Y |
| Treacheries of the Space Marines | Liberator | Jonathan Green | Y |
| Into the Maelstrom | Salvation | Jonathan Green | Y |
| Let the Galaxy Burn | Salvation | Jonathan Green | Y |
| Legends of the Space Marines | The Relic | Jonathan Green | Y |
| Space Marines: The Omnibus | The Relic | Jonathan Green | Y |
| There is Only War | The Relic | Jonathan Green | Y |
| Crucible of War | Firestarter | Jonathon Green | Y |
| Black Library Direct Download | Sanctuary | Jonathon Green | Y |
| Black Library Direct Download | A Memory of Tharsis | Josh Reynolds | Y |
| Black Library Live! Chapbook 2016 | A Memory of Tharsis | Josh Reynolds | Y |
| Black Library Celebration 2018 | A Trick of the Light | Josh Reynolds | |
| Black Library Direct Download | A Trick of the Light | Josh Reynolds | |
| Black Library Direct Download | Cadre | Josh Reynolds | Y |
| Space Marines: Angels of Death | Cadre | Josh Reynolds | Y |
| Black Library Direct Download | Dante's Canyon | Josh Reynolds | Y |
| Black Library Direct Download | Death's Head | Josh Reynolds | |
| Black Library Direct Download | Enyalius, In Memoriam | Josh Reynolds | Y |
| Damocles | Hunter's Snare | Josh Reynolds | Y |
| Black Library Direct Download | Light of a Crystal Sun | Josh Reynolds | |
| Black Library Direct Download | Prodigal | Josh Reynolds | |
| Legion of the Damned: Digital Collection | Remorseless | Josh Reynolds | Y |
| Black Library Direct Download | Shadow of the Leviathan | Josh Reynolds | Y |
| Legends of the Dark Millennium: Ultramarines | Shadow of the Leviathan | Josh Reynolds | Y |
| Black Library Direct Download | The Fall of Hive Jensen | Josh Reynolds | Y |
| Sanctus Reach | The Fall of Hive Jensen | Josh Reynolds | Y |
| Fabius Bile: Primogenitor Exclusive | The Howling Ship | Josh Reynolds | Y |
| Black Library Direct Download | The Zheng Cipher | Josh Reynolds | Y |
| Crusade | The Zheng Cipher | Josh Reynolds | Y |
| Fear The Alien | Fear Itself | Juliet E. McKenna | Y |
| Black Library Direct Download | Deadhenge | Justin Hill | Y |
| Deathwatch Ignition | Deadhenge | Justin Hill | Y |
| Black Library Direct Download | Lost Hope | Justin Hill | Y |
| Legends of the Dark Millennium: Astra Militarum | Lost Hope | Justin Hill | Y |
| Black Library Direct Download | The Battle for Markgraaf Hive | Justin Hill | |
| Black Library Direct Download | The Battle of Tyrok Fields | Justin Hill | Y |
| Legends of the Dark Millennium: Astra Militarum | The Battle of Tyrok Fields | Justin Hill | Y |
| Black Library Direct Download | Truth is my Weapon | Justin Hill | Y |
| Black Library Direct Download | Ursakar Creed: Last Step Backwards | Justin Hill | Y |
| Legends of the Dark Millennium: Astra Militarum | Ursakar Creed: Last Step Backwards | Justin Hill | Y |
| Legion of the Damned: Digital Collection | Animus Malorum | Laurie Goulding | Y |
| Scythes of the Emperor | Daedalus | Laurie Goulding | Y |
| Black Library Direct Download | Heloth | Laurie Goulding | Y |
| Scythes of the Emperor | Heloth | Laurie Goulding | Y |
| Visions of War | Heloth | Laurie Goulding | Y |
| Black Library Direct Download | Kaldor Draigo: Knight of Titan | Laurie Goulding | Y |
| Black Library Direct Download | Last Watch | Laurie Goulding | Y |
| Deathwatch: Xenos Hunters | Last Watch | Laurie Goulding | Y |
| Black Library Direct Download | Mortarian's Heart | Laurie Goulding | |
| Sons of the Emperor | Prince of Blood | Laurie Goulding | |
| Space Marines: Angels of Death | Reclamation | Laurie Goulding | Y |
| Scythes of the Emperor | Reclamation | Laurie Goulding | Y |
| Black Library Direct Download | Terminal Velocity | Laurie Goulding | Y |
| Scythes of the Emperor | Terminal Velocity | Laurie Goulding | Y |
| Black Library Direct Download | The Aegidan Oath | Laurie Goulding | Y |
| Scythes of the Emperor | The Aegidan Oath | Laurie Goulding | Y |
| Renegades of the Dark Millennium | The Blood of Sotha | Laurie Goulding | Y |
| Black Library Direct Download | The Ghost Halls | Laurie Goulding | Y |
| Space Marines: Angels of Death | The Ghost Halls | Laurie Goulding | Y |
| The Burden of Loyalty | The Heart of the Pharos | Laurie Goulding | |
| Black Library Direct Download | The Lords of Borsis | Laurie Goulding | Y |
| The Black Library Anthology 2013/14 | The Lords of Borsis | Laurie Goulding | Y |
| Black Library Direct Download | The Shadow of the Beast | Laurie Goulding | Y |
| Hammer and Bolter Issue 21 | The Shadow of the Beast | Laurie Goulding | Y |
| The Best of Hammer and Bolter Vol 2 | The Shadow of the Beast | Laurie Goulding | Y |
| 15 Years of Black Library | The Weakness of Others | Laurie Goulding | Y |
| Black Library Direct Download | The Word of the Silent King | Laurie Goulding | Y |
| Crusade | The Word of the Silent King | Laurie Goulding | Y |
| Black Library Direct Download | Engage the Enemy | Lee Lightner | Y |
| Black Library Direct Download | Altar of Cyrene | Lucian Soulban | Y |
| Inferno! Magazine #45 | Altar of Cyrene | Lucian Soulban | Y |
| Into the Maelstrom | Tenebrae | Mark Brendan | Y |
| Let the Galaxy Burn | Tenebrae | Mark Brendan | Y |
| Black Library Direct Download | Blood of Sanguinius | Mark Clapham | Y |
| Black Library Direct Download | Fellguard Part 1: The Siege of Fellguard | Mark Clapham | Y |
| Glory Imperialis | Fellguard Part 1: The Siege of Fellguard | Mark Clapham | Y |
| Black Library Direct Download | Fellguard Part 2: The Hour of Hell | Mark Clapham | Y |
| Glory Imperialis | Fellguard Part 2: The Hour of Hell | Mark Clapham | Y |
| Black Library Direct Download | Hollow Beginnings | Mark Clapham | Y |
| Hammer and Bolter Issue 20 | In Hrondir's Tomb | Mark Clapham | Y |
| The Best of Hammer and Bolter Vol 2 | In Hrondir's Tomb | Mark Clapham | Y |
| Black Library Direct Download | Iron Guard | Mark Clapham | Y |
| Glory Imperialis | Iron Guard | Mark Clapham | Y |
| Fear The Alien | Sanctified | Mark Clapham | Y |
| Black Library Direct Download | The Known Unknown | Mark Clapham | Y |
| Deathwatch Ignition | The Known Unknown | Mark Clapham | Y |
| Black Library Direct Download | Judgement | Mark Latham | Y |
| Space Marines: Angels of Death | Judgement | Mark Latham | Y |
| Hammer and Bolter Issue 26 | Kovos Falls | Mark Latham | Y |
| Tales from the Dark Millennium | Fate's Masters, Destiny's Servants | Matt Keefe | Y |
| Crucible of War | Warp Spawn | Matt Ralphs | Y |
| Black Library Direct Download | In Service Eternal | Matt Smith | |
| Angron | After Desh'ea | Matthew Farrer | Y |
| Tales of Heresy | After Desh'ea | Matthew Farrer | Y |
| Black Library Direct Download | Faces | Matthew Farrer | Y |
| Fear The Alien | Faces | Matthew Farrer | Y |
| There is Only War | Faces | Matthew Farrer | Y |
| Planetkill | Seven Views of Uhlguth's Passing | Matthew Farrer | Y |
| 25 for 25 ebook | Snares and Delusions | Matthew Farrer | Y |
| Dark Imperium | Snares and Delusions | Matthew Farrer | Y |
| Let the Galaxy Burn | Snares and Delusions | Matthew Farrer | Y |
| There is Only War | Snares and Delusions | Matthew Farrer | Y |
| Black Library Direct Download | The Headstone and the Hammerstone Kings | Matthew Farrer | Y |
| Sabbat Worlds | The Headstone and the Hammerstone Kings | Matthew Farrer | Y |
| Sabbat Crusade | The Inheritor King | Matthew Farrer | Y |
| Treacheries of the Space Marines | The Masters, Bidding | Matthew Farrer | Y |
| Black Library Direct Download | The Memory of Flesh | Matthew Farrer | Y |
| Gamesday Anthology 2012/13 | The Memory of Flesh | Matthew Farrer | Y |
| Black Library Direct Download | Vorax | Matthew Farrer | Y |
| Eye of Terra | Vorax | Matthew Farrer | Y |
| Crucible of War | Liberation Day | Matthew Farrer & Edward Rusk | Y |
| Black Library Direct Download | The Path Unclear | Mike Brooks | |
| 25 for 25 ebook | Even Unto Death | Mike Lee | Y |
| Bringers of Death | Even Unto Death | Mike Lee | Y |
| There is Only War | Even Unto Death | Mike Lee | Y |
| 25 for 25 ebook | Gate of Souls | Mike Lee | Y |
| Tales from the Dark Millennium | Gate of Souls | Mike Lee | Y |
| There is ONly War | Gate of Souls | Mike Lee | Y |
| Black Library Direct Download | None More Loyal | Mike Lee | Y |
| Black Library Direct Download | The Emperor's Chosen | Mike Lee | Y |
| Black Library Direct Download | The Few | Mike Lee | Y |
| The War For Rynn's World | The Few | Mike Lee | Y |
| Tales of Heresy | Wolf at the Door | Mike Lee | Y |
| Black Library Direct Download | Potentia | Mike Mason | |
| Black Library Direct Download | The Flesh Tithe | Miles A Drake | |
| Legends of the Space Marines | Cover of Darkness | Mitchel Scanlon | Y |
| Space Marines: The Omnibus | Cover of Darkness | Mitchel Scanlon | Y |
| What Price Victory | Forever Loyal | Mitchel Scanlon | Y |
| Imperial Guard Omnibus 1 | Knee Deep | Mitchel Scanlon | Y |
| 25 for 25 ebook | Red Reward | Mitchel Scanlon | Y |
| Bringers of Death | Red Reward | Mitchel Scanlon | Y |
| Deathwing | Seed of Doubt | Neil Mcintosh | Y |
| Dark Imperium | Small Cogs | Neil Rutledge | Y |
| Let the Galaxy Burn | Small Cogs | Neil Rutledge | Y |
| Black Library Direct Download | The Emperor's Grace | Nicholas Alexander | Y |
| Black Library Direct Download | The Trophy | Nicholas Alexander | Y |
| Black Library Direct Download | Artefacts | Nick Kyme | Y |
| Sedition's Gate | Artefacts | Nick Kyme | Y |
| War Without End | Artefacts | Nick Kyme | Y |
| Black Library Direct Download | Bitter Salvage | Nick Kyme | Y |
| Space Marines: Angels of Death | Bitter Salvage | Nick Kyme | Y |
| Sabbat Worlds | Blueblood | Nick Kyme | Y |
| Black Library Direct Download | Cato Sicarius: Master of the Watch | Nick Kyme | Y |
| Legends of the Dark Millennium: Ultramarines | Cato Sicarius: Master of the Watch | Nick Kyme | Y |
| Black Library Direct Download | Censure | Nick Kyme | Y |
| Legacies of Betrayal | Censure | Nick Kyme | Y |
| The Scripts Vol 2 | Censure | Nick Kyme | Y |
| Whispers of Heresy | Censure | Nick Kyme | Y |
| Blades of the Traitor | Chirurgeon | Nick Kyme | Y |
| The Last Phoenix | Chirurgeon | Nick Kyme | Y |
| War Without End | Chirurgeon | Nick Kyme | Y |
| Black Library Direct Download | Devil's Trappings | Nick Kyme | Y |
| Black Library Direct Download | Dread Night | Nick Kyme | Y |
| Black Library Direct Download | Dreams of Unity | Nick Kyme | |
| Gamesday Anthology 2011/12 | Emperor's Deliverance | Nick Kyme | Y |
| Hammer and Bolter Issue 26 | Emperor's Deliverance | Nick Kyme | Y |
| Tome of Fire | Emperor's Deliverance | Nick Kyme | Y |
| There is Only War | Emperor's Deliverance | Nick Kyme | Y |
| Black Library Direct Download | Feat of Iron | Nick Kyme | Y |
| The Primarchs | Feat of Iron | Nick Kyme | Y |
| Hammer and Bolter Issue 22 | Fireborn | Nick Kyme | Y |
| Salamanders The Omnibus | Fireborn | Nick Kyme | Y |
| The Best of Hammer and Bolter Vol 2 | Fireborn | Nick Kyme | Y |
| The Space Marine Script Book Vol 2 | Fireborn | Nick Kyme | Y |
| Tome of Fire | Fireborn | Nick Kyme | Y |
| Heroes of the Space Marines | Fires of War | Nick Kyme | Y |
| Salamanders The Omnibus | Fires of War | Nick Kyme | Y |
| Space Marines: The Omnibus | Fires of War | Nick Kyme | Y |
| Tome of Fire | Fires of War | Nick Kyme | Y |
| Age of Darkness | Forgotten Sons | Nick Kyme | Y |
| Legends of the Space Marines | Hell Night | Nick Kyme | Y |
| Salamanders The Omnibus | Hell Night | Nick Kyme | Y |
| Space Marines: The Omnibus | Hell Night | Nick Kyme | Y |
| Tome of Fire | Hell Night | Nick Kyme | Y |
| There is Only War | Hell Night | Nick Kyme | Y |
| Black Library Direct Download | Immortal Duty | Nick Kyme | Y |
| Meduson | Immortal Duty | Nick Kyme | Y |
| Meduson Ultimate Edition | Immortal Duty | Nick Kyme | Y |
| Shattered Legions | Immortal Duty | Nick Kyme | Y |
| Black Library Direct Download | Imperfect | Nick Kyme | Y |
| Death and Defiance | Imperfect | Nick Kyme | Y |
| The Last Phoenix | Imperfect | Nick Kyme | Y |
| War Without End | Imperfect | Nick Kyme | Y |
| Black Library Direct Download | In the Depths of Hades | Nick Kyme | Y |
| Black Library Direct Download | Machine Spirit | Nick Kyme | Y |
| Deathwatch: The Omnibus | Machine Spirit | Nick Kyme | Y |
| Deathwatch: Xenos Hunters | Machine Spirit | Nick Kyme | Y |
| Xenos Hunters | Machine Spirit | Nick Kyme | Y |
| Sons of the Emperor | Mercy of the Dragon | Nick Kyme | |
| Black Library Direct Download | On the Heels of Morkai | Nick Kyme | Y |
| 15 Years of Black Library | Only Ash Remains | Nick Kyme | Y |
| Salamanders The Omnibus | Only Ash Remains | Nick Kyme | Y |
| Tome of Fire | Only Ash Remains | Nick Kyme | Y |
| Fear The Alien | Prometheus Requiem | Nick Kyme | Y |
| Salamanders The Omnibus | Prometheus Requiem | Nick Kyme | Y |
| Tome of Fire | Prometheus Requiem | Nick Kyme | Y |
| Eye of Terra | Red-Marked | Nick Kyme | Y |
| Black Library Direct Download | Rite of Pain | Nick Kyme | Y |
| Salamanders The Omnibus | Rite of Pain | Nick Kyme | Y |
| Space Marines: Angels of Death | Rite of Pain | Nick Kyme | Y |
| Black Library Direct Download | Scar Crossed | Nick Kyme | |
| Black Library Direct Download | Spear of Macragge | Nick Kyme | Y |
| Damnos | Spear of Macragge | Nick Kyme | Y |
| Black Library Direct Download | Stratagem | Nick Kyme | Y |
| Eye of Terra | Stratagem | Nick Kyme | Y |
| Sabbat Crusade | Tempest | Nick Kyme | Y |
| Black Library Direct Download | The Ash of Souls | Nick Kyme | Y |
| Black Library Direct Download | The Burden of Angels | Nick Kyme | Y |
| Honour of the Space Marines | The Burden of Angels | Nick Kyme | Y |
| 25 for 25 ebook | The Burning | Nick Kyme | Y |
| Black Library Direct Download | The Burning | Nick Kyme | Y |
| Black Library Live Chapbook 2010 | The Burning | Nick Kyme | Y |
| Hammer and Bolter Issue 14 | The Burning | Nick Kyme | Y |
| Salamanders The Omnibus | The Burning | Nick Kyme | Y |
| The Best of Hammer and Bolter Vol 2 | The Burning | Nick Kyme | Y |
| Tome of Fire | The Burning | Nick Kyme | Y |
| Black Library Direct Download | The Cage | Nick Kyme | Y |
| Salamanders The Omnibus | The Cage | Nick Kyme | Y |
| Black Library Direct Download | The Firebrand | Nick Kyme | Y |
| Salamanders The Omnibus | The Firebrand | Nick Kyme | Y |
| Tome of Fire | The Firebrand | Nick Kyme | Y |
| Black Library Direct Download | The Gates Of Terra | Nick Kyme | Y |
| The Silent War | The Gates Of Terra | Nick Kyme | Y |
| The Imperial Truth | The Phoenician | Nick Kyme | Y |
| The Last Phoenix | The Phoenician | Nick Kyme | Y |
| War Without End | The Phoenician | Nick Kyme | Y |
| Renegades of the Dark Millennium | The Surest Weapon | Nick Kyme | Y |
| Rebirth Exclusive | Three Hanged Men | Nick Kyme | Y |
| Black Library Direct Download | Thunder from Fenris | Nick Kyme | Y |
| Hammer and Bolter Issue 19 | Thunder from Fenris | Nick Kyme | Y |
| The Best of Hammer and Bolter Vol 2 | Thunder from Fenris | Nick Kyme | Y |
| The Space Marine Script Book | Thunder from Fenris | Nick Kyme | Y |
| Black Library Direct Download | Veil of Darkness | Nick Kyme | Y |
| Legends of the Dark Millennium: Ultramarines | Veil of Darkness | Nick Kyme | Y |
| Black Library Direct Download | Vengeful Honour | Nick Kyme | Y |
| Legion of the Damned: Digital Collection | Votum Infernus | Nick Kyme | Y |
| Gamesday Chapbook 2009 | Vulkan's Shield | Nick Kyme | Y |
| Salamanders The Omnibus | Vulkan's Shield | Nick Kyme | Y |
| The Space Marine Script Book Vol 2 | Vulkan's Shield | Nick Kyme | Y |
| Tome of Fire | Vulkan's Shield | Nick Kyme | Y |
| Black Library Direct Download | Vulkan He'stan: Forgefather | Nick Kyme | Y |
| Sabbat Worlds | Cell | Nik Vincent | Y |
| Black Library Direct Download | The Fissure | Nik Vincent | Y |
| Black Library Live Chapbook 2013 | The Fissure | Nik Vincent | Y |
| Sabbat Crusade | The Fissure | Nik Vincent | Y |
| Black Library Direct Download | The Third Wise Man | Nik Vincent | Y |
| Sabbat Crusade | Viduity | Nik Vincent | Y |
| Black Library Direct Download | The Blind King | Paul Kearney | Y |
| Dark Hunters: Umbra Sumus | The Blind King | Paul Kearney | Y |
| 25 for 25 ebook | The Last Detail | Paul Kearney | Y |
| Legends of the Space Marines | The Last Detail | Paul Kearney | Y |
| Space Marines: The Omnibus | The Last Detail | Paul Kearney | Y |
| There is Only War | The Last Detail | Paul Kearney | Y |
| Black Library Direct Download | A Sanctuary of Wyrms | Peter Fehervari | Y |
| Crusade | A Sanctuary of Wyrms | Peter Fehervari | Y |
| Deathwatch: Xenos Hunters | A Sanctuary of Wyrms | Peter Fehervari | Y |
| Shas'o | A Sanctuary of Wyrms | Peter Fehervari | Y |
| The Tau Empire | A Sanctuary of Wyrms | Peter Fehervari | Y |
| Xenos Hunters | A Sanctuary of Wyrms | Peter Fehervari | Y |
| Black Library Direct Download | Casts a Hungry Shadow | Peter Fehervari | |
| Shas'o | Fire and Ice | Peter Fehervari | Y |
| The Tau Empire | Fire and Ice | Peter Fehervari | Y |
| Heroes of the Space Marines | Nightfall | Peter Fehervari | Y |
| Space Marines: The Omnibus | Nightfall | Peter Fehervari | Y |
| Black Library Direct Download | Out Caste | Peter Fehervari | Y |
| Shas'o | Out Caste | Peter Fehervari | Y |
| The Tau Empire | Out Caste | Peter Fehervari | Y |
| Black Library Direct Download | The Crown of Thorns | Peter Fehervari | Y |
| Space Marines: Angels of Death | The Crown of Thorns | Peter Fehervari | Y |
| Black Library Direct Download | The Greater Evil | Peter Fehervari | |
| Black Library Direct Download | The Walker in Fire | Peter Fehervari | Y |
| Deathwatch Ignition | The Walker in Fire | Peter Fehervari | Y |
| Black Library Direct Download | Vanguard | Peter Fehervari | Y |
| Damocles | Blood Oath | Phil Kelly | Y |
| Black Library Direct Download | Iron Soul | Phil Kelly | Y |
| Space Marines: Angels of Death | Iron Soul | Phil Kelly | Y |
| Black Library Events Anthology 2017/18 | The Battle of Blackthunder Mesa | Phil Kelly | Y |
| Black Library Direct Download | Dirty Dealings | Rachel Harrison | |
| Black Library Direct Download | Execution | Rachel Harrison | |
| Black Library Direct Download | Binding | Ray Harrison | Y |
| Black Library Direct Download | Dishonoured | Ray Harrison | Y |
| Black Library Direct Download | The Blooding | Ray Harrison | Y |
| Black Library Direct Download | The Third War | Ray Harrison | Y |
| Space Marines: Angels of Death | The Third War | Ray Harrison | Y |
| Heroes of the Space Marines | The Labyrinth | Richard Ford | Y |
| Heroes of the Space Marines | The Labyrinth | Richard Ford | Y |
| Planetkill | Mortal Fuel | Richard Williams | Y |
| 25 for 25 ebook | Orphans of the Kraken | Richard Williams | Y |
| Legends of the Space Marines | Orphans of the Kraken | Richard Williams | Y |
| Space Marines: The Omnibus | Orphans of the Kraken | Richard Williams | Y |
| There is Only War | Orphans of the Kraken | Richard Williams | Y |
| Mark of Calth | A Deeper Darkness | Rob Sanders | Y |
| 15 Years of Black Library | Army of One | Rob Sanders | Y |
| The Silent War | Army of One | Rob Sanders | Y |
| Black Library Direct Download | Bastions | Rob Sanders | Y |
| Space Marines: Angels of Death | Bastions | Rob Sanders | Y |
| Renegades of the Dark Millennium | Bring the Night | Rob Sanders | Y |
| Black Library Direct Download | Clade | Rob Sanders | Y |
| Black Library Direct Download | Czevak to the Dark Tower Came | Rob Sanders | Y |
| Black Library Direct Download | Distant Echoes of Old Night | Rob Sanders | Y |
| Gamesday Anthology 2012/13 | Distant Echoes of Old Night | Rob Sanders | Y |
| The Silent War | Distant Echoes of Old Night | Rob Sanders | Y |
| Black Library Direct Download | Fearful Symmetries | Rob Sanders | Y |
| Deathwatch: Xenos Hunters | Fearful Symmetries | Rob Sanders | Y |
| Xenos Hunters | Fearful Symmetries | Rob Sanders | Y |
| The Imperial Truth | Hands of the Emperor | Rob Sanders | Y |
| War Without End | Hands of the Emperor | Rob Sanders | Y |
| Hammer and Bolter Issue 5 | Iron Within | Rob Sanders | Y |
| The Best of Hammer and Bolter Vol 1 | Iron Within | Rob Sanders | Y |
| Black Library Direct Download | Ironfire | Rob Sanders | Y |
| Eye of Terra | Ironfire | Rob Sanders | Y |
| Black Library Direct Download | Myriad | Rob Sanders | |
| Black Library Direct Download | Necessary Evil | Rob Sanders | Y |
| Black Library Live Chapbook 2011 | Necessary Evil | Rob Sanders | Y |
| Hammer and Bolter Issue 23 | Necessary Evil | Rob Sanders | Y |
| The Best of Hammer and Bolter Vol 2 | Necessary Evil | Rob Sanders | Y |
| Black Library Weekender 2012 | Shadow Play | Rob Sanders | Y |
| Black Library Direct Download | Soulfuel | Rob Sanders | |
| Black Library Direct Download | Spirit War | Rob Sanders | Y |
| The Carnac Campaign | Spirit War | Rob Sanders | Y |
| Sabbat Crusade | The Blood Bound | Rob Sanders | Y |
| Black Library Direct Download | The Darkness of Angels | Rob Sanders | Y |
| Legends of the Dark Millennium: Space Wolves | The Darkness of Angels | Rob Sanders | Y |
| Black Library Direct Download | The Dread Sentinels of Dorn | Rob Sanders | Y |
| Black Library Direct Download | The Ember Wolves | Rob Sanders | |
| Black Library Direct Download | The Harrowing | Rob Sanders | Y |
| Sedition's Gate | The Harrowing | Rob Sanders | Y |
| War Without End | The Harrowing | Rob Sanders | Y |
| Age of Darkness | The Iron Within | Rob Sanders | Y |
| Hammer and Bolter Issue 3 | The Long Games at Carcharias | Rob Sanders | Y |
| Space Marines: The Omnibus | The Long Games at Carcharias | Rob Sanders | Y |
| The Best of Hammer and Bolter Vol 1 | The Long Games at Carcharias | Rob Sanders | Y |
| Victories of the Space Marines | The Long Games at Carcharias | Rob Sanders | Y |
| There is Only War | The Long Games at Carcharias | Rob Sanders | Y |
| Black Library Direct Download | The Path Forsaken | Rob Sanders | |
| Black Library Direct Download | The Serpent Beneath | Rob Sanders | Y |
| The Primarchs | The Serpent Beneath | Rob Sanders | Y |
| Black Library Direct Download | The Wolf Within | Rob Sanders | Y |
| Legends of the Dark Millennium: Space Wolves | The Wolf Within | Rob Sanders | Y |
| The Last Phoenix | The Iron Within | Rob Sanders | Y |
| Black Library Direct Download | Unearthed | Rob Sanders | |
| Black Library Direct Download | A Brother's Confession | Robbie MacNiven | |
| White Dwarf Exclusive | A Brother's Confession | Robbie MacNiven | |
| Black Library Direct Download | A Song for the Lost | Robbie MacNiven | Y |
| Black Library Direct Download | Blood and Iron | Robbie MacNiven | Y |
| Black Library Direct Download | Death Warrant | Robbie MacNiven | |
| Black Library Direct Download | Fate Unbound | Robbie MacNiven | Y |
| Legacy of Russ | Fate Unbound | Robbie MacNiven | Y |
| Black Library Direct Download | Infurnace | Robbie MacNiven | Y |
| Legacy of Russ | Infurnace | Robbie MacNiven | Y |
| Black Library Direct Download | Lying in Flames | Robbie MacNiven | Y |
| Legacy of Russ | Lying in Flames | Robbie MacNiven | Y |
| Black Library Direct Download | Once a Stimm Queen | Robbie MacNiven | |
| Black Library Direct Download | Redblade | Robbie MacNiven | Y |
| Deathwatch Ignition | Redblade | Robbie MacNiven | Y |
| Black Library Direct Download | The Broken Crown | Robbie MacNiven | Y |
| Legacy of Russ | The Broken Crown | Robbie MacNiven | Y |
| Black Library Direct Download | The Lost King | Robbie MacNiven | Y |
| Legacy of Russ | The Lost King | Robbie MacNiven | Y |
| Black Library Direct Download | The Reaping Time | Robbie MacNiven | Y |
| Black Library Direct Download | The Wild King | Robbie MacNiven | Y |
| Legacy of Russ | The Wild King | Robbie MacNiven | Y |
| Black Library Direct Download | The Young Wolf's Return | Robbie MacNiven | Y |
| Legacy of Russ | The Young Wolf's Return | Robbie MacNiven | Y |
| Black Library Direct Download | Wolf Trap | Robbie MacNiven | Y |
| Legacy of Russ | Wolf Trap | Robbie MacNiven | Y |
| Dark Imperium | Angels | Robert Earl | Y |
| Let the Galaxy Burn | Angels | Robert Earl | Y |
| Planetkill | Phobos Worked in Adamant | Robey Jenkins | Y |
| Black Library Direct Download | Duty's End | Robin Cruddace | Y |
| Space Marines: Angels of Death | Duty's End | Robin Cruddace | Y |
| 25 for 25 ebook | A Good Man | Sandy Mitchell | Y |
| Sabbat Worlds | A Good Man | Sandy Mitchell | Y |
| There is Only War | A Good Man | Sandy Mitchell | Y |
| Hammer and Bolter Issue 20 | A Mug of Recaff | Sandy Mitchell | Y |
| The Best of Hammer and Bolter Vol 2 | A Mug of Recaff | Sandy Mitchell | Y |
| Hero of the Imperium | Echoes of the Tomb | Sandy Mitchell | Y |
| There is Only War | Echoes of the Tomb | Sandy Mitchell | Y |
| Crucible of War | Fight or Flight | Sandy Mitchell | Y |
| Hero of the Imperium | Fight or Flight | Sandy Mitchell | Y |
| Black Library Direct Download | Hidden Depths | Sandy Mitchell | Y |
| Bringers of Death | Sector 13 | Sandy Mitchell | Y |
| Defender of the Imperium | Sector 13 | Sandy Mitchell | Y |
| Hero of the Imperium | The Beguiling | Sandy Mitchell | Y |
| What Price Victory | The Beguiling | Sandy Mitchell | Y |
| Treacheries of the Space Marines | The Bitter End | Sandy Mitchell | Y |
| Black Library Direct Download | The Cost of Command | Sandy Mitchell | Y |
| Black Library Direct Download | The Little Things | Sandy Mitchell | Y |
| Black Library Weekender 2012 | The Little Things | Sandy Mitchell | Y |
| Black Library Direct Download | The Smallest Detail | Sandy Mitchell | Y |
| Black Library Weekender 2012 | The Smallest Detail | Sandy Mitchell | Y |
| Defender of the Imperium | Traitor's Gambit | Sandy Mitchell | Y |
| Gamesday Chapbook 2009 | Traitor's Gambit | Sandy Mitchell | Y |
| Architect of Fate | Accursed Eternity | Sarah Cawkwell | Y |
| Black Library Ebundle | Accursed Eternity | Sarah Cawkwell | Y |
| Hammer and Bolter Issue 5 | Action and Consequence | Sarah Cawkwell | Y |
| The Best of Hammer and Bolter Vol 1 | Action and Consequence | Sarah Cawkwell | Y |
| Hammer and Bolter Issue 8 | Cause and Effect | Sarah Cawkwell | Y |
| The Best of Hammer and Bolter Vol 1 | Cause and Effect | Sarah Cawkwell | Y |
| Hammer and Bolter Issue 1 | Primary Instinct | Sarah Cawkwell | Y |
| Space Marines: The Omnibus | Primary Instinct | Sarah Cawkwell | Y |
| The Best of Hammer and Bolter Vol 1 | Primary Instinct | Sarah Cawkwell | Y |
| Victories of the Space Marines | Primary Instinct | Sarah Cawkwell | Y |
| Black Library Direct Download | Skin Deep | Sarah Cawkwell | Y |
| Space Marines: Angels of Death | Skin Deep | Sarah Cawkwell | Y |
| 25 for 25 ebook | The Bitter End | Sarah Cawkwell | Y |
| Black Library Direct Download | The Bitter End | Sarah Cawkwell | Y |
| Hammer and Bolter Issue 12 | The Bitter End | Sarah Cawkwell | Y |
| The Best of Hammer and Bolter Vol 1 | The Bitter End | Sarah Cawkwell | Y |
| There is Only War | The Bitter End | Sarah Cawkwell | Y |
| Black Library Direct Download | The Pact | Sarah Cawkwell | Y |
| Hammer and Bolter Issue 15 | The Pact | Sarah Cawkwell | Y |
| The Best of Hammer and Bolter Vol 2 | The Pact | Sarah Cawkwell | Y |
| Black Library Direct Download | The Tyrant's Champion | Sarah Cawkwell | Y |
| Planetkill | The Emperor Wept | Simon Dyton | Y |
| Dark Imperium | Apothecary's Honour | Simon Jowett | Y |
| Let the Galaxy Burn | Apothecary's Honour | Simon Jowett | Y |
| Into the Maelstrom | Hell in a Bottle | Simon Jowett | Y |
| Let the Galaxy Burn | Hell in a Bottle | Simon Jowett | Y |
| Words of Blood | Loyalty's Reward | Simon Jowett | Y |
| Let the Galaxy Burn | Loyalty's Reward | Simon Jowett | Y |
| 25 for 25 ebook | Xenocide | Simon Jowett | Y |
| Bringers of Death | Xenocide | Simon Jowett | Y |
| What Price Victory | Elucidium | Simon Spurrier | Y |
| 25 for 25 ebook | On Mournful Wings | Simon Spurrier | Y |
| Crucible of War | On Mournful Wings | Simon Spurrier | Y |
| Hammer of the Emperor | A Blind Eye | Steve Lyons | Y |
| Black Library Direct Download | Angron's Monolith | Steve Lyons | Y |
| Black Library Direct Download | Bad Blood | Steve Lyons | Y |
| Deathwatch Ignition | Bad Blood | Steve Lyons | Y |
| Imperial Guard Omnibus 1 | Better the Devil | Steve Lyons | Y |
| Black Library Direct Download | Dark City | Steve Lyons | Y |
| Legends of the Dark Millennium: Space Wolves | Dark City | Steve Lyons | Y |
| Black Library Direct Download | Down Amongst the Dead Men | Steve Lyons | Y |
| Honour Imperialis | Down Amongst the Dead Men | Steve Lyons | Y |
| Black Library Direct Download | Engines of War | Steve Lyons | Y |
| Plagues of Orath | Engines of War | Steve Lyons | Y |
| Black Library Direct Download | Exodus | Steve Lyons | |
| Black Library Direct Download | Eye of the Dragon | Steve Lyons | Y |
| Legends of the Dark Millennium: Space Wolves | Eye of the Dragon | Steve Lyons | Y |
| Legends of the Dark Millennium: Ultramarines | Knight of Talassar | Steve Lyons | Y |
| Black Library Direct Download | Left for Dead | Steve Lyons | |
| The Space Marine Script Book | The Madness Within | Steve Lyons | Y |
| Hammer and Bolter Issue 16 | The Shadow in the Glass | Steve Lyons | Y |
| The Best of Hammer and Bolter Vol 2 | The Shadow in the Glass | Steve Lyons | Y |
| Black Library Direct Download | The Silence | Steve Lyons | Y |
| Deathwatch Ignition | The Silence | Steve Lyons | Y |
| Hammer and Bolter Issue 4 | Waiting Death | Steve Lyons | Y |
| Hammer of the Emperor | Waiting Death | Steve Lyons | Y |
| The Best of Hammer and Bolter Vol 1 | Waiting Death | Steve Lyons | Y |
| Black Library Direct Download | Culling the Horde | Steve Parker | Y |
| Crusade | Culling the Horde | Steve Parker | Y |
| The War For Rynn's World | Culling the Horde | Steve Parker | Y |
| Deathwatch: The Omnibus | Exhumed | Steve Parker | Y |
| Deathwatch: Xenos Hunters | Exhumed | Steve Parker | Y |
| Hammer and Bolter Issue 2 | Exhumed | Steve Parker | Y |
| Space Marines: The Omnibus | Exhumed | Steve Parker | Y |
| The Best of Hammer and Bolter Vol 1 | Exhumed | Steve Parker | Y |
| Victories of the Space Marines | Exhumed | Steve Parker | Y |
| Xenos Hunters | Exhumed | Steve Parker | Y |
| Deathwatch: The Omnibus | Headhunted | Steve Parker | Y |
| Deathwatch: Xenos Hunters | Headhunted | Steve Parker | Y |
| Heroes of the Space Marines | Headhunted | Steve Parker | Y |
| Space Marines: The Omnibus | Headhunted | Steve Parker | Y |
| Xenos Hunters | Headhunted | Steve Parker | Y |
| Hammer of the Emperor | Mercy Run | Steve Parker | Y |
| Planetkill | Mercy Run | Steve Parker | Y |
| Black Library Direct Download | Pedro Kantor: The Vengeful Fist | Steve Parker | Y |
| The War For Rynn's World | Pedro Kantor: The Vengeful Fist | Steve Parker | Y |
| 25 for 25 ebook | Survivor | Steve Parker | Y |
| Black Library Direct Download | Survivor | Steve Parker | Y |
| Hammer and Bolter Issue 9 | Survivor | Steve Parker | Y |
| The Best of Hammer and Bolter Vol 1 | Survivor | Steve Parker | Y |
| There is Only War | Survivor | Steve Parker | Y |
| Imperial Guard Omnibus 1 | The Citadel | Steve Parker | Y |
| Tales from the Dark Millennium | The Falls of Marakross | Steve Parker | Y |
| Deathwing | Lacrymata | Storm Constantine | Y |
| Black Library Direct Download | Straken: A Hero's Death | Toby Frost | Y |
| Legends of the Dark Millennium: Astra Militarum | Straken: A Hero's Death | Toby Frost | Y |
| Black Library Direct Download | The Apex | Toby Frost | Y |
| Black Library Direct Download | Lesser Evils | Tom Foster | Y |
| Hammer and Bolter Issue 13 | Lesser Evils | Tom Foster | Y |
| The Best of Hammer and Bolter Vol 2 | Lesser Evils | Tom Foster | Y |
| Hammer and Bolter Issue 6 | Tower of Blood | Tony Ballantyne | Y |
| Space Marines: The Omnibus | Tower of Blood | Tony Ballantyne | Y |
| The Best of Hammer and Bolter Vol 1 | Tower of Blood | Tony Ballantyne | Y |
| Deathwing | Devil's Marauders | William King | Y |
| Into the Maelstrom | In the Belly of the Beast | William King | Y |
| Let the Galaxy Burn | In the Belly of the Beast | William King | Y |
| 25 for 25 ebook | The Wrath of Kharn | William King | Y |
| Dark Imperium | The Wrath of Kharn | William King | Y |
| Let the Galaxy Burn | The Wrath of Kharn | William King | Y |
| There is Only War | The Wrath of Kharn | William King | Y |